Prof. Dr. Henrik Mouritsen
AG Neurosensorik/Animal Navigation, IBU
Carl-von-Ossietzky Universität Oldenburg
Carl-von-Ossietzky-Strasse 9-11
D-26129 Oldenburg
Germany
Phone: +49 (0) 441 798 3081
+49 (0) 441 798 3095
email: henrik.mouritsen(at)uni-oldenburg.de
Personal Assistant
Nadine Ruthenberg
Phone: +49 (0) 441 798 3149
Email: nadine.ruthenberg[at]uol.de
Dr. David Dreyer, PhD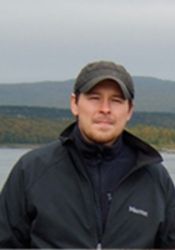 Scientific Curriculum Vitae
Education and Scientific Career
2014-present: PostDoctoral Fellow at Lund University, Sweden
2008-2014: PhD student at Department of Biology, University of Oldenburg, Germany, AG Animal Navigation/"Neurosensorik" (Group leader: Prof. Dr. H. Mouritsen).
2008: Master of sciences (M.Sc.) in Biology (Diplom-Biologe): Erstellung eines standardisierten 3D Neuropilatlas und die Plastizität des Gehirns von Tribolium castaneum. Philipps-University of Marburg, Department of Biology- Neurobiology, Ethology (Group leader: Prof. Dr. Joachim Schachtner)
2003: Matriculated at Philipps-University of Marburg, Germany
2002: Graduated from Städtisches Gymnasium Olpe, Germany
2009: Zapka M., Heyers D., Hein CM., Engels S., Schneider NL., Hans J., Weiler S., Dreyer D., Kishkinev D., Wild JM., Mouritsen H. "Visual but not trigeminal mediation of magnetic compass information in a migratory bird". Nature, 461 (7268): 1274-7. (PUBMED) Highly accessed by public and scientific media!
2010: Dreyer D, Vitt H, Dippel S, Goetz B, el Jundi B, Kollmann M, Huetteroth W, Schachtner J 3D standard brain of the red flour beetle Tribolium castaneum: a tool to study metamorphic development and adult plasticity
Front Syst Neurosci 4:3
PMID: 20339482
2006: Dippel S, Dreyer D, Huetteroth W, Schachtner J Staging of pupal development and brain metamorphosis of the red flour beetle Tribolium castaneum. 99. DZG meeting Münster PM_NB_1.20, p44
2006: Dreyer D, Dippel S, el Jundi B, Huetteroth W, Schachtner J. 3D reconstruction of the Tribolium brain: a tool to study developmental and adult plasticity
99. DZG meeting Münster PM_NB_1.19, p44
2006: Schachtner J, Huetteroth W, Dreyer D, Dippel S, el Jundi B. 3D-reconstructions of the Tribolium brain: a tool to study developmental and adult plasticity. 36th meeting of the Society for Neuroscience, Atlanta, USA, 35.1/W24
2007: Götz B, Dippel S, Dreyer D, Huetteroth W, Schachtner J. Ontogeny of the antennal lobes of the red flour beetle Tribolium castaneum. 100. DZG meeting Köln N14, p107
2007: Dippel S, Goetz B, Dreyer D, Huetteroth W, Schachtner J Pupal staging and metamorphic development of the antennal lobes of the red flour beetle Tribolium castaneum
7th NWG meeting, Göttingen TS8-5B
2007: Schachtner J, Goetz B, Dippel S, Dreyer D, Huetteroth W. Metamorphic development of the antennal lobes of the red flour beetle Tribolium castaneum: 3D-reconstruction and neurochemistry. 37th SfN meeting, San Diego, California, USA, 135.2/F14
2008: Dreyer D, Dippel S, Vitt H, Huetteroth W, Schachtner J. 3D standard brain of the Red Flour Beetle Tribolium castaneum: sex dimorphism, adult plasticity and RNAi. 101. DZG meeting Jena P NB.2, p171 POSTER PRIZE
2008: Dreyer D, Dippel S, Vitt H, Huetteroth W, Schachtner J. 3D standard brain of the red flour beetle Tribolium castaneum: sex dimorphism, adult plasticity and RNAi. 38th SfN meeting, Washington, Washington, USA, 625.18/C6
2009: Kollmann M, Dreyer D, Vitt H, Goetz B, Redelfs S, Schumacher D, Schachtner J. 3D Standard brain of the red flour beetle Tibolium castaneum: A tool to study adult brain development and plasticity - The brain of Tribolium castaneum and its' plasticity. Regionales Tribolium meeting, Köln
2009: Vitt H, Dippel S, Goetz B, Dreyer D, Huetteroth W, Schachtner J
3D Standard Brain of the Red Flour Beetle Tribolium castaneum: A Tool to Study Sex Dimorphism, Adult Plasticity and RNAi. 8th NWG meeting, Göttingen T19-4B