Prof. Dr. Henrik Mouritsen
AG Neurosensorik/Animal Navigation, IBU
Carl-von-Ossietzky Universität Oldenburg
Carl-von-Ossietzky-Strasse 9-11
D-26129 Oldenburg
Germany
Phone: +49 (0) 441 798 3081
+49 (0) 441 798 3095
email: henrik.mouritsen(at)uni-oldenburg.de
Personal Assistant
Nadine Ruthenberg
Phone: +49 (0) 441 798 3149
Email: nadine.ruthenberg[at]uol.de
Dr. Svenja Engels, PhD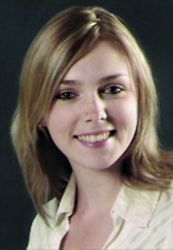 Scientific Curriculum Vitae
Education and Scientific Career
01/2009 - 2014: PhD studentat Department of Biology, University of Oldenburg, Germany, AG Animal Navigation/"Neurosensorik" (Group leader: Prof. Dr. H. Mouritsen).
Project: Magnetic compass orientation of migratory birds
08 -09/2006: internship at the Biologische Station Westliches Ruhrgebiet e.V.
04/2008: Graduation: Diplom-Biologin (M.Sc.) at Ruhr-University Bochum
Thesis: Raumnutzung und interspezifische Interaktionen zwischen Giraffa camelopardalis rothschildi, Aepyceros melampus, Tragelaphus angasi und Damaliscus pygargus phillipsi in der Gemeinschaftshaltung.
Dept. of Biology- Ethology (Prof. Dr. W. Kirchner)
10/2005-04/2008: study of Biology at Ruhr-University Bochum
focus on Zoology and Ethology
10/2003-09/2005: Study of Biology at University of Oldenburg
06/2003: Graduated from Herbartgymnasium Oldenburg
Zapka M, Heyers D, Hein CM, Engels S, Schneider NL, Hans J, Weiler S, Dreyer D, Kishkinev D, Wild JM, Mouritsen H. (2009) Visual but not trigeminal mediation of magnetic compass information in a migratory bird. Nature 461: 1274-1277.
Engels S, Sulkowski K, Weigelt H. (2006) Untersuchungen zur Wechselwirkung von Äsung und Deckung beim Rehwild in einem Naherholungsgebiet in NRW. Öko Jagd 4: 17-20).