Prof. Dr. Henrik Mouritsen
AG Neurosensorik/Animal Navigation, IBU
Carl-von-Ossietzky Universität Oldenburg
Carl-von-Ossietzky-Strasse 9-11
D-26129 Oldenburg
Germany
Phone: +49 (0) 441 798 3081
+49 (0) 441 798 3095
email: henrik.mouritsen(at)uni-oldenburg.de
Personal Assistant
Nadine Ruthenberg
Phone: +49 (0) 441 798 3149
Email: nadine.ruthenberg[at]uol.de
Florian Bleibaum, Master student / Research fellow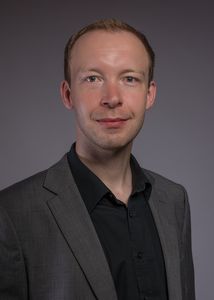 Scientific Curriculum Vitae
My education and work experience provide me with an inter-disciplinary background and training in a variety of experimental techniques. I am a self-directed and motivated person, with a profound knowledge in Molecular Biology, and experience in project management and teaching.
10/2010 – 05/2014 Master of Biology
Thesis: "Characterization, identification and siRNA induced regulation of Erithacus rubecula cryptochromes" (written in English)
Specializations in Molecular Neurochemistry, Biochemistry and Neurosensory
Carl Von Ossietzky University of Oldenburg/University of Bremen
07/2012 Course in RNA interference techniques in vitro and in vivo
PromoCell Academy, Heidelberg, given by Dr. Ute Schepers
10/2006 – 10/2010 Bachelor of Environmental Sciences
Thesis: "The impact of changing environmental factors on host – parasite communities. Parameters for further laboratory tests" (written in English)
Leuphana University of Lüneburg
09/2005 – 09/2006 Training as a paramedic, first aid and paramedic teacher
Paramedic Centraler Krankentransport, Hameln
10/2002 – 07/2005 High School Graduation (Abitur)
Elisabeth-Selbert-Schule Hameln Fachgymnasium für Gesundheit und Soziales
05/2014 – currently
Research assistant in the AG Neurosensorik (Animal Navigation)
Project: The expression of cryptochrome proteins with their associated co-factor Flavin.
Cooperation with Oxford University to analyze the effect of magnetic fields on radical pairs, as a result of the light induced reduction of the cryptochrome bound Flavin.
08/2014 – 09/2014
Collaboration project with Molzym GmbH & Co. KG/ Chimera Biotec GmbH
Characterization of a heat shock protein (HSPx) antibody on Mycobacterium bovis.
Design of the experimental setup and tutor of an external Master student.
04/2012 – 05/2014
Scientific assistant in the AG Neurosensorik (Animal Navigation)
Project: Genetic and molecular characterization of cryptochromes in different species of migratory birds.
Establishment of protocols and methods in biochemistry and cell culture. Teaching assistantship of Bachelor and Master students.
02/2011 – currently
First aid and paramedic teacher
Zentraler Krankentransport
07/2008 – 11/2009
Management assistantship in the general student committee (AStA)
Leuphana University of Lüneburg
01/2005 – currently
Public relations INTERHELP (German society for international help)
Fundraising for projects on disaster relief supply and logistics management, as well as media elaboration.
Selected Skills & Techniques
Molecular biology
RT-PCR, RACE-PCR, cell culture, molecular cloning, mutagenesis techniques, RNA/DNA extraction, immunohistochemistry, immunocytochemistry, RNA interference
Biochemistry
Recombinant protein expression, protein extraction, luciferase assay, Western-Blot (with different blotting systems), cell-free protein expression, immunoprecipitation (with different IP systems)
Microscopy
Fluorescence microscopy and confocal microscopy
Molecular Virology
Hemagglutination assay, plaque assay, TCID50 (Tissue Culture Infection Dose 50) in herpes and influenza virus infections
Bioinformatics
Protein/nucleotide sequence analysis (Geneious), SWISS model (protein structure modelling)
Animal models
Experience with transgenic mouse models, surgery assistance and in vivo application of siRNA in migratory birds
Software skills
MS Office environment and web publishing
04/11/2013 – 04/13/2013
Bionav -The application of animal navigation techniques in autonomous vehicles.
Royal Institute of Navigation conference. Egham, United Kingdom.
07/21/2012
Symposium of Magnetoreception. 6th European Conference on Behavioural Biology.
University of Duisburg-Essen. Duisburg, Germany.