Shubhash Chandra Yadav, PhD student
Prof. Dr. Henrik Mouritsen
AG Neurosensorik/Animal Navigation, IBU
Carl-von-Ossietzky Universität Oldenburg
Carl-von-Ossietzky-Strasse 9-11
D-26129 Oldenburg
Germany
Phone: +49 (0) 441 798 3081
+49 (0) 441 798 3095
email: henrik.mouritsen(at)uni-oldenburg.de
Personal Assistant
Nadine Ruthenberg
Phone: +49 (0) 441 798 3149
Email: nadine.ruthenberg[at]uol.de
Shubhash Chandra Yadav, PhD student
Shubhash Chandra Yadav, PhD student
Scientific Curriculum Vitae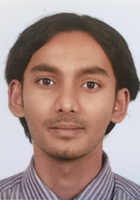 Address: AG Neurosensorik /Animal Navigation, IBU
Carl-von-Ossietzky Universität Oldenburg
Carl-von-Ossietzky-Strasse 9-11,
D-26129 Oldenburg, Germany
E-mail: shubhash.chandra.yadav@uol.de
6/2016-present PhD in Neurobiology, University of Oldenburg, Germany
Project: Role of bipolar cell-to-bipolar cell and bipolar cell-to-amacrine cell coupling in the mouse retina, supervisor: Apl. Prof. Karin Dedek
2013-2015 Masters of Biological Sciences, Korea Advanced Institute of Science and Technology (KAIST), South Korea.
Thesis: Effects of DG/CA3 inactivation on the retrieval of episodic-like memory, supervisor: Prof. Min Whan Jung
2007-2011/12 Bachelor of Optometry, Institute of Medicine, Tribhuvan University, Nepal.
Thesis: Ocular manifestations in drug abusers, supervisor: Prof. Dr. DN Shah
6/2016-present Early stage researcher, switchBoard, European Training Network, University of Oldenburg, Germany
2012-2015 BK21 research scholar, Systems Neuroscience Laboratory, South Korea
2019: Yadav, S. C., Tetenborg, S., & Dedek, K. (2019). Gap Junctions in A8 Amacrine Cells Are Made of Connexin36 but Are Differently Regulated than Gap Junctions in AII Amacrine Cells. Frontiers in Molecular Neuroscience, 12, 99. doi: 10.3389/fnmol.2019.00099
2018: Meyer A., Yadav SC., Dedek K. (2018) Phenotyping of Gap-Junctional Coupling. Methods Mol Biol 1753: 249-259. doi: 10.1007/978-1-4939-7720-8_17.
2017: Tetenborg S, Yadav SC., Hormuzdi SG., Monyer H, Janssen-Bienhold U, Dedek K: Differential Distribution of Retinal Ca2+/Calmodulin-Dependent Kinase II (CaMKII) Isoforms Indicates CaMKII-β and -δ as Specific Elements of Electrical Synapses Made of Connexin36 (Cx36). Frontiers in Molecular Neuroscience 10. dog: 10.3389/fnmol.2017.00425.