Citizen Science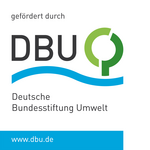 Students, citizens and scientists conduct research on nitrate pollution
A citizen science project on sustainable water use
The topic of nitrate and nitrate pollution is becoming increasingly important in the social debate. For example, due to intensive agricultural management in the districts of Osnabrücker Land, Cloppenburg, Vechta and Emsland, there have been reports for many years of steadily increasing nitrate pollution in various types of water bodies in these regions.
At the same time, an increasing need for understanding of specialised scientific achievements is recognisable in modern society. In this context, various outreach formats have emerged in which interested citizens participate directly in research on highly topical issues; one well-known format is the citizen science approach.
In an innovative project (duration spring 2019 - spring 2022), the Universities of Oldenburg and Osnabrück combine the nitrate issue with the citizen science approach:
Sub-project 1: University of Osnabrück
From an environmental chemistry perspective, citizens in the Oldenburg Münsterland region and in the neighbouring districts of Osnabrück North and the western district of Emsland have been carrying out area-wide nitrate monitoring since summer 2019, and subsequently developing and offering exhibitions on the nitrate topic and problem.
For further information, please click here to go directly to the project homepage of the University of Osnabrück.
Sub-project 2: University of Oldenburg
In addition, an experimental set will be developed and tested, which will make it possible to experimentally explore the problem of excessive nitrogen pollution of the soil and the possibilities of removing nitrate from drinking water, as well as to reflect on one's own possibilities of influencing the reduction of nitrate input.
Furthermore, during the course of the project, both project groups will develop and offer student laboratories, exhibitions and teacher training.