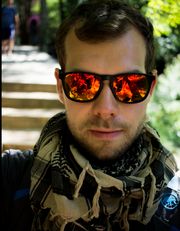 Leon Dlugosch
PhD CANDIDATE
RESEARCH TRAINING GROUP "ECOMOL"
WORKING GROUP BIOLOGY OF GEOLOGICAL PROCESSES
INSTITUTE FOR CHEMISTRY AND BIOLOGY OF THE MARINE ENVIRONMENT (ICBM)
CARL VON OSSIETZKY UNIVERSITY OF OLDENBURG
CARL-VON-OSSIETZKY STRAßE 9-11
D-26129 OLDENBURG
ROOM: W16-0-007
PHONE: (49) 441- 798-3636
E-MAIL: leon.dlugosch@uol.de
---
Current Research
Marine heterotrophic bacteria are a major force, driving the carbon-, nitrogen- and other nutrient cycles and influencing marine dissolved organic matter (DOM) in the oceans. Many taxa are involved in phytoplankton blooms and their degradation By using modern sequencing and bioinformatic approaches (Amplicon sequencing, Metagenome & Metatranscriptome) we are investigating the influence of bacterial groups and their respective ecological functions on the geometabolome in environmental and experimental samples.
Curriculum Vitae
Since 2016
Ph.D. candidate at the Univeristy of Oldenburg / ICBM
"Bridging the gap between bacterial species exometabolomics and geometabolomics in pelagic ecosystems"
2013 - 2015

Msc. Microbiology at the University

of Oldenburg/ICBM


Master Thesis: "Changes in the active bacterioplankton community during algal bloom event in the North Sea"



2009 - 2013
Bsc. Biology at Technical University of Brunswick / Alfred-Wegener-Institute
Bachelor Thesis: "Analysis of genomic ERIC-Fingerprints in potentially pathogenic Vibrio parahaemolyticus and V. cholerae"
Publications
Bakenhus, Insa, Leon Dlugosch, Sara Billerbeck, Helge-Ansgar Giebel, Felix Milke, and Meinhard Simon. (2017) "Composition of Total and Cell-Proliferating Bacterioplankton Community in Early Summer in the North Sea – Roseobacters Are the Most Active Component." Frontiers in Microbiology 8, no. 1771.
Dlugosch Leon, Insa Bakenhus Sara Billerbeck, Helge-Ansgar Giebel, Felix Milke and Meinhard Simon (2017) "Roseobacters are the most active cell-proliferating bacterioplankton group during early summer in the North Sea" Symposium of Aquatic Microbial Ecology (SAME)15