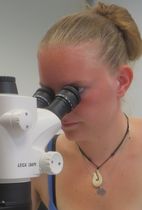 Yvonne Schadewell
PhD CANDIDATE
RESEARCH TRAINING GROUP "ECOMOL"
INSTITUTE FOR BIOLOGY AND ENVIRONMENTAL SCIENCES (IBU)
WORKING GROUP ANIMAL BIODIVERSITY AND EVOLUTIONARY BIOLOGY

CARL VON OSSIETZKY UNIVERSITY OF OLDENBURG
CARL-VON-OSSIETZKY STRAßE 9-11
D-26129 OLDENBURG
GERMANY
ROOM: W4-2-247
PHONE: (49) 441-798-3367
E-MAIL: yvonne.eder@uol.de
---
Research
I am a molecular ecologist focusing on the functional ecology and biodiversity of marine ecosystems. I want to establish a new detection method for monitoring marine animals and their migration pathways.

Therefore, I use environmental DNA (eDNA), which turned out to be a remarkably powerful tool, and embedded in an interdisciplinary context.
Curriculum Vitae
2014-2017
M.Sc. Marine Environmental Science, ICBM, University of Oldenburg
Master thesis: 'Morphological and physiological performance of Hydractinia echinata in a changing environment'
2010-2014

B.Sc. Bioscience, University of Kaiserslautern