Promotion programmes
Environmental Sciences and Biodiversity
Doctoral degree programme/PhD programme "Environmental Sciences and Biodiversity".
Intergrated Research Training Group of the CRC Roseobacter

The Research Training Group integrated into the CRC Roseobacter wants to attract the most promising young scientists from across the world with majors in biology, biotechnology, biochemistry, chemistry and bioinformatics. The group supports the education of the PhD students through providing an excellent research environment and offering introductory and advanced training courses. This comprehensive concept improves the qualifications of the doctoral students and facilitates their development into leading researchers of the future.
EcoMol - The ecology of molecules" ("EcoMol")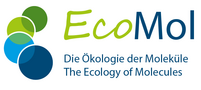 The new PhD Research Training Group "The Ecology of Molecules" is being coordinated at the Institute for Chemistry and Biology of the Marine Environment (ICBM) at the University of Oldenburg. Twelve working groups, located in Oldenburg und Wilhelmshaven, are involved. The ICBM is an interdisciplinary research institute, performing fundamental and applied research in the marine sciences.
Oldenburg and the northwest of Germany have an international reputation as an outstanding research location in the field of marine biology, successfully attracting both national and international scientists and students.