FAQ-Data Protection and Information Security
FAQ-Data Protection and Information Security
Phishing originally refers to fishing for passwords. In the meantime, however, it usually refers to e-mails that are intended to deceive the reader in order to obtain confidential data.
The first version pretends to be from a known sender and wants to entice the reader to click on the link it contains. This link then does not lead to a known website as claimed, but to a fake one. If the user enters his password to log in, the attackers have reached their goal.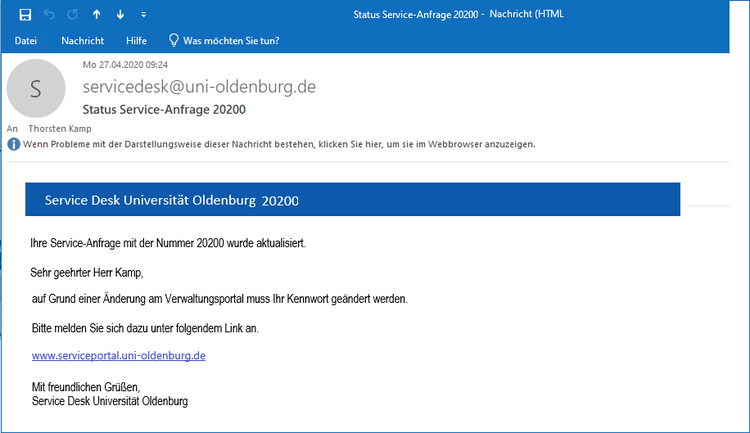 In the second version, a file is sent as an attachment, which the recipient is supposed to open. This file then contains a virus.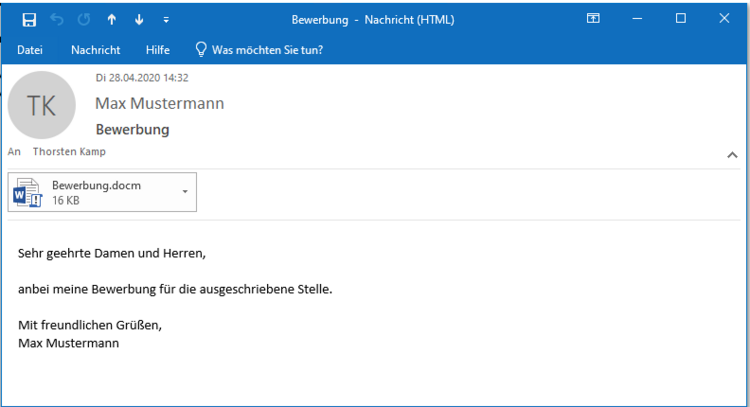 Recommendation
Pay attention to whether the content of the e-mail you receive is plausible. Have you already had contact with the sender on the subject? Are you expecting the message or this reply? Did he actually promise to send you a file?
Viruses often insert themselves into an existing conversation and send a supposed reply in connection with a virus file.
Would the sender write to this e-mail address?
Your bank will probably not send you an e-mail to your Uni-Oldenburg e-mail address.
If an e-mail unexpectedly asks you to log on to a website, never click on the link. Open a web browser and type in the known address yourself.
Tip: If you hover over a link in your mail without clicking on it, you can see where the link actually leads.
Be suspicious of files in e-mails. If the file is sent to you unexpectedly, do not open it.
And if you receive a security warning that macros are disabled, please do not activate the virus.
By the way: If you receive suspicious e-mails, feel free to forward them to !
How can I save passwords?
There are so-called password safes for storing passwords. These are programmes that save the stored passwords in an encrypted, password-secured file. Instead of, for example, 30 passwords, you only have to remember one password, the master password. Consider using a different, longer password than the one for your university access as the master password. And don't share this master password with anyone.
The best-known password safes include the programme Keepass (keepass.info/) and its offshoot KeepassXC (keepassxc.org/).
You can also use these programmes at Oldenburg University to manage your passwords. Just make sure that you choose a secure, sufficiently long password for the programme. This will be the only password you have to remember. All other passwords are stored in the programme and can be copied and used for logging in if necessary. The programmes also offer a password generator for creating secure passwords.
The programmes mentioned are all open source and free to use.
Can I save passwords in the browser?
No. Storage is insecure, passwords can be stolen. It is better to use a password safe.
What do I have to pay attention to with my web server or my website?