Julia Bass
Julia Bass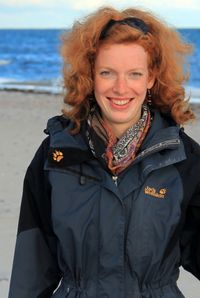 Address:

Landscape Ecology Group
Institute of Biology and Environmental Sciences
Room W2-2-234
Carl-von-Ossietzky Strasse 9-11
University of Oldenburg
26111 Oldenburg
Germany

Tel. ++ 49 (0)441 798 4459
Fax ++ 49 (0)441 798 5659

email:

Julia Bass is a member of the Project IBR.
My dissertation focuses on elucidating the interaction of environmental processes with plant traits for understanding and predicting ecosystem functioning and biogeomorphic development of coastal dunes. The main emphasis is placed on (a) describing and evaluating variations in plant traits along the succession gradient from pioneer zone to high marsh/rear dune, (b) evaluating germination traits in relation to physical disturbance in dunes, and (c) highlighting the role of plant traits in determining the biogeomorphic feedback and the resistance and resilience of small dunes against physical disturbance. To address these questions I am working on a meta-analysis and am conducting mesocosm experiments.
University of Oldenburg, Germany

Jan 2015 – ongoing

PhD student. Thesis title: "Biodiversity effects on dune biogeomorphology: a trait based approach"

University of Goettingen, Germany

Oct 2012 – Dec 2014

MSc in Biodiversity, Ecology and Evolution with core theme in Conservation Biology. Thesis title: "The retreat of the blue mussel (Mytilus edulis) on Helgoland: effects of larvae, predation and recruitment"

University of Copenhagen, Denmark

Jul 2013 – Jan 2014

Exchange student at the Nature Management Master Program

University of Tuebingen, Germany

Oct 2008 – Oct 2012

BSc in Biology
| | |
| --- | --- |
| Sep 2017 - Nov 2017 | Research fellow, Ecosystem-based solutions for resilient urban agriculture (ECOSOLA), University of Oldenburg, Germany |
| Jan 2017 - ongoing | Research fellow, Living CoastLab, University of Oldenburg, Germany |
| June – Aug 2014 | Fieldwork for Master thesis, Biologische Anstalt Helgoland, Germany |
| Feb 2013 | Fieldwork, La Gamba Tropical Field Station, Costa Rica |
| June – Aug 2012 | Research intern, AVRDC The World Vegetable Center, Tainan, Taiwan |
| June - Aug 2011 | Research intern, Secretariat of the Convention of the Conservation of Migratory Species of Wild Animals (UNEP/CMS), Bonn, Germany |
| July – Sep 2008 | Research intern, South Western Research Station, Arizona, USA |
| | |
| --- | --- |
| Oct 2017 | Bass, J., Balke, T, Minden, V. Resistance and resilience of coastal natural and artificial foredune communities to hysical distrubance. Littoral, Liverpool, UK (Talk) |
| Oct 2016 | Bass, J., Balke, T, Kleyer, M. Minden, V. Responses of duen species to physical disturbance - a trait based approach. Coastal Ecology Workshop, Fuhlendorf, Germany (Talk) |
| Sep 2015 | Bass, J., Bartsch, I., Molis, M. Retreat of Mytilus edulis L. at Helgoland rocky intertidal: effects of recruitment success and predation. European Marine Biology Symposium, Helgoland, Germany (Poster) |
Summer and Winter Schools
| | |
| --- | --- |
| Jan 2017 | Science Meets Practice, Winter School, ETH Zurich, Wislikofen, Switzerland |
| Jun 2016 | Species traits: a functional approach to biodiverstiy, from organisms to ecosystems Summer School, University of South Bohemia, České Budějovice, Czech Republic |
| Aug 2015 | Biodiversity Synthesis. Summer School, iDiv, Leipzig, Germany |
| Aug 2010 | Marine Biology Summer School, Biologische Anstalt Helgoland, Helgoland, Germany |
| | |
| --- | --- |
| Sep 2017 | Travel Grant by the Graduate Scholl OlTech |
| Jan 2015 – Dec 2017 | Scholarship by the ministry of science and culture (MWK) of Lower Saxony for conducting a PhD thesis (Project IBR) |
| Jul 2013 – Jan 2014 | Erasmus scholarship for studying at Copenhagen University |
| Oct 2010 – July 2011 | Udo-Keller-Foundation Forum Humanum scholarship for participating in an interdisciplinary course on cosmology, evolution and history |
| Sep 2009 | Travel Grant of the Franco-German Youth Office for an individual study project in France on "French initiatives in meeting the European goal of conserving biodiversity. A case study on the habitat conservation of bats" |
| April 2008 | "Bremen's Best" award by the Federal State of Bremen for an excellent school leaving certificate |