Professional Experience Gained in German PV Company
by Salim Bouziri, Algeria (EUREC 2013/2014)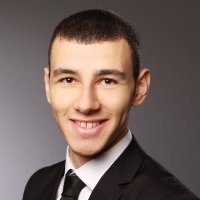 My graduation from the EUREC Master's degree and one year experience in the solar sector in Switzerland allowed me to gain a step further in acquiring more perspectives within the field of PV and since January 2016, I'm part of the Integral Planning team at Goldbeck Solar GmbH, based in Hirschberg, Germany.
Goldbeck Solar GmbH, a subsidiary of Goldbeck GmbH, is a Photovoltaic specialized EPC company holding a high expertise in industrial rooftops and ground mounted applications.
With a portfolio of over 500MW already installed worldwide, Goldbeck has several manufacturing facilities and offers its own assembly systems for flat rooftop installations with its mounting products SUNOVATION, as well as SUNOLUTION in particular known to be one of the most lightweight of its kind, highly temperature and UV-resistant, setting standards due to the easiness and simplicity of its assembly.
I need to admit that I am part of a solid organizational structure within the integral planning department, collaborating with a very enthusiastic and motivated team, determined, passionate, and working together toward long-term reliable solutions for our clients.
Currently having a focus on industrial rooftops, I'm involved in the design of PV plants, their structural analysis, and a wide range of project planning activities. While coming from an electrical engineering background acquired in Algeria, working in integral planning is helping me to gain many competencies ranging from architecture, construction, civil engineering, and procurement considerations, while offering support to the sales and electrical planning team.
This experience, unique in itself, is allowing me to add meaningful inputs to our teamwork on a regular basis while fulfilling my passion for solar energy.
After a couple of months of training and integration in the Goldbeck's structure of work, I have completed so far my first rooftop project in Germany, located nearby Frankfurt, and a long pipeline of upcoming projects is yet to come!
Happy to be part of such fulfilling opportunity, I am looking forward to further collaborate with my colleagues in many future EPC operations nationally and internationally, within this promising and continuously expanding field of Photovoltaic.
Contact:
salim.bouzim82iri@gmbonail.jyvcom<br />h8wdttp: //dnife.liws15nko88rfedin.com4wnq/in/ sajgcarlimbouziri<br /hl2k> (sali58ujum.hm3xtbouziruz3i@kpaugmail.co4+zm )