EnergieOpwek.nl - Making Energy Fun
EnergieOpwek.nl - Making Energy Fun
EnergieOpwek.nl - Making Energy Fun
by Christian van Someren (PPRE 2012-13)
Have you even wondered how much energy those solar panels on your neighbor's roof are producing, even though you haven't seen the sun in a week? Well, now you can find out.
Over the past two years I have been working at the Hanze University of Applied Sciences on the development of EnergieOpwek.nl, a website which models renewable energy production in the Netherlands in real-time. The goal of this project is to create publicity around renewables and to inform the public about what is happening right now in the world of renewable energy. But more importantly, we want to engage the public at large by making energy into a fun and interesting topic[1].
The website started as a simple model of Dutch wind and solar production based on real-time weather measurements from the Royal Dutch Meteorological Institute (KNMI). This model has since been expanded to include the production of biogas, offshore wind, heat pumps, biomass power plants, wood stoves, waste incineration plants (technically considered renewable, let's save that debate for another article), biomass, bio-oil and geothermal heating.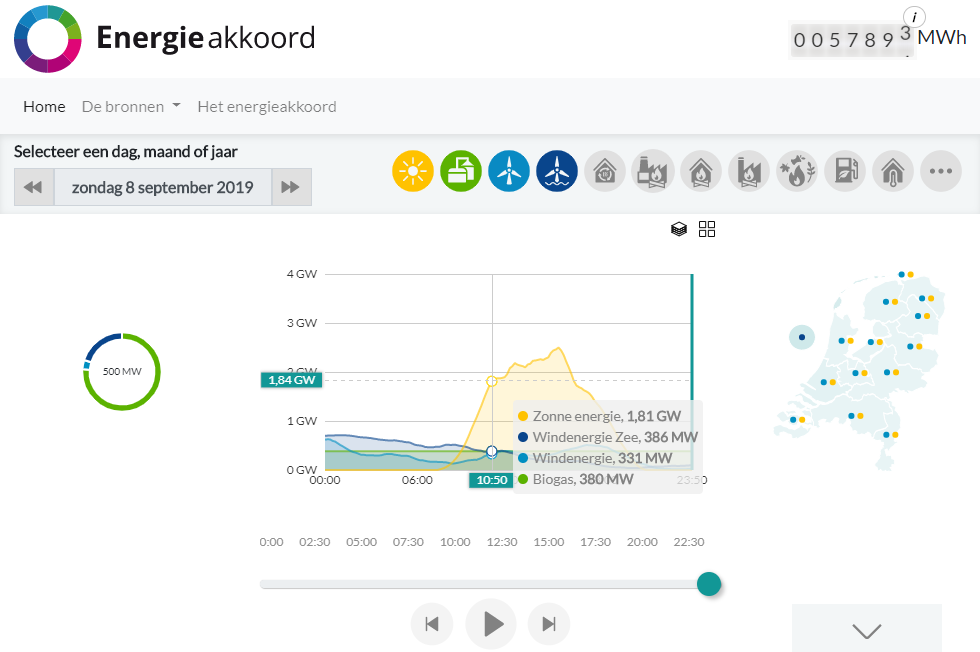 Figure 1 - Screenshot from the website: You can see current production on the left-hand side, the daily production pattern in the center and regional production on the right
The website gives an estimate of renewable energy production (or consumption, in the case of bio-oil) from each source every 10-minutes over the whole year. It is possible to select individual day, month or year patterns, to turn different sources on and off, and to focus on individual provinces (with the Dutch islands being treated separately due to their unique weather patterns). We also provide some interesting facts which can help put things in context (e.g. Enough renewable energy was produced today to power 1.3 million Dutch homes, or the entire city of Rotterdam).
One of the challenges of designing such a website is a general lack of information. With the exception of wind energy, there is no publicly available information on hourly energy production from renewable sources (and this in a country which tracks how much money people spend on their pets[2]). How does one solve this problem? Fortunately, many people in the energy industry are technical geeks, and they have provided us with information to help improve our models. Of course, this is not a perfect solution, and we are continuously working to improve the site.
And what about our goal of improving public interest in renewables? This is harder to assess, though we have been mentioned in the national media[3] and we are often cited whenever a new production record is made. Also the website gets enough traffic that I know it's not just my mom showing it off to her friends. The main reason for showing production at a provincial level is to give people a certain sense of pride in what they are accomplishing.
I am also happy to announce that we have just started a project with the Communications lectorship here at Hanze to help promote the website further and make it more approachable (i.e. less technical and easier for the layman to understand).
But for now, feel free to poke around and check out the website for yourself. If you have any questions or suggestions please feel free to contact me.
Christian van Someren is a PPRE graduate (2012-13) and currently works at Hanze University of Applied Sciences in Groningen, Netherlands. You can reach him at:
---
[1] I know that everyone reading this already finds energy fun and interesting, but let's be honest, renewable energy experts aren't your typical people.