M.Sc. Arnd Meiser
Neuropsychology Lab
(» Postal address)
Department of Psychology
(» Postal address)
M.Sc. Arnd Meiser
PhD student
- Recording brain activity beyond the lab
- Source modeling
- Event Related Potentials
- Methods to investigate auditory perception
Electroencephalography (EEG) holds the opportunity to indirectly measure neuronal activity of the human brain. Because it is relatively low-priced and non-invasive, EEG is under constant development in research and currently has many practical and clinical applications.
One major concern is that EEG-experiments need to be conducted in a laboratory environment, since EEG is highly susceptible to movement- and other artefacts and must therefore be carefully prepared for each measurement. A mobile EEG, robust against movement and external disturbances is therefore highly desirable. The goal is to make long-term recordings over several hours and experiments in natural, every-day situations possible. Therefore, such a solution also needs to be unobtrusive, easy to apply and comfortable to wear.
Consequently, my field of research is the development and improvement of a mobile EEG-solution, specifically with the goal to test its functionality against that of an old-fashioned, stationary EEG. Since an unobtrusive, mobile version has a smaller, less well distributed number of electrodes to record from, it stands to reason that only brain activity of a certain nature can be recorded with it. The focus of my work lies on studies combining measurements of mobile and stationary EEG to compare their susceptibility to different signals of the brain.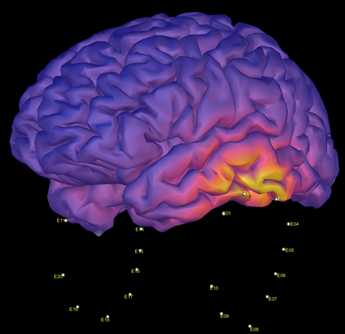 since August 2019
PhD student at the Neuropsychology Lab under supervision of Dr. Martin Bleichner
2016 – 2019
Master of Science in Neurocognitive Psychology, Carl von Ossietzky University Oldenburg, Germany
2012 – 2016
Bachelor of Science in Business Psychology, University of Lüneburg, Germany
Meiser, A., Tadel, F., Debener, S., & Bleichner, M. G. (2020). The Sensitivity of Ear-EEG: Evaluating the Source-Sensor Relationship Using Forward Modeling.
Brain Topography
, 1-12.
https://doi.org/10.1007/s10548-020-00793-2
Kasten, F. H., Duecker, K., Maack, M. C., Meiser, A., & Herrmann, C. S. (2019). Integrating electric field modeling and neuroimaging to explain inter-individual variability of tACS effects.
Nature communications
,
10
(1), 1-11.
https://doi.org/10.1038/s41467-019-13417-6