Model course of study in human medicine
To encourage teachers in their commitment to good university teaching, the Teaching Prize is awarded at Carl von Ossietzky University Oldenburg. You can find more information here:
Medical Didactics is aimed in particular at teachers in Faculty VI and would like to support them with subject-specific features in medical teaching by offering training and advice.
Model course of study in human medicine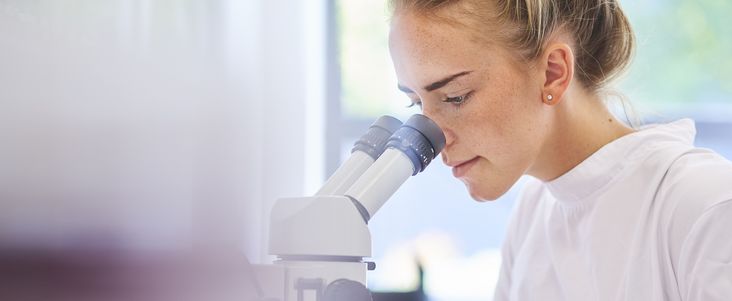 Our studies are practice-oriented: From the very beginning, students come into contact with people and their illnesses in so-called patient lectures. From the first semester onwards, the future doctors gain experience in GP practices and outpatient medical facilities. In the context of problem-oriented learning, students also work in small groups.
Our studies are interdisciplinary and research-oriented: Our students acquire medical knowledge across disciplines from the very beginning. In addition, they can already carry out two smaller research projects in research groups during the first three years of their studies. In this way, they learn to work scientifically - for example in scientific or clinical research or in health services research.
Our study programme is cross-border: students spend at least one year at the Rijksuniversiteit Groningen during their six-year study programme. Our "Human Medicine" degree programme is regulated by the nationally uniform Approbationsordnung (licensing regulations). At the same time, the model study programme is based on the renowned curriculum of the Groningen medical training. Students graduate with the state examination. However, they can additionally obtain a Bachelor's or a Master's degree at the University of Groningen.
Main features of the study programme
So far, 80 students start their studies in human medicine at the University of Oldenburg every winter semester. This number is to be gradually increased to about 150 places in the coming years. In selecting the students, those responsible do not only look at the performance in the Abitur within the framework of the university's own selection procedure; factors such as previous medical experience and communication skills also play a role.
In Oldenburg, the prospective doctors study 40 semester weeks per year - 26 or 30 weeks are often the norm. On the other hand, all the clinical traineeships required by the licensing regulations are integrated into the programme and do not fall during the lecture-free period. During their studies, students spend one year in Groningen, where they relocate to the Dutch city. Here they not only get to know the Dutch health care system, but also the everyday life of a university town rich in tradition.
In the first three years of the total six-year study period, the curriculum includes basic science subjects as well as clinical subjects and practical skills - in four ten-week modules per year. In addition, there are four one-week general medical internships, elective placements and research time. Each study module includes at least one practical week. The completion of this first study stage is the physics examination equivalent after the third year.
Deepen knowledge, rehearse practice
In the fourth year of study, the practical component increases significantly once again and the building blocks of the first three years (clinical knowledge, communication, examination) are brought together. A total of 18 weeks of block practical training are completed in clinics; these are prepared by twelve weeks of lectures. In the Clinical Training Centre, clinical-practical skills are again intensively trained on simulators and phantoms. Communication training is deepened in the fourth year of study with simulation persons and the teaching content is specifically linked to clinical content.
In the fifth year of study, another module with courses follows; in addition, students are in block practical training for six weeks and write a major research paper over 16 weeks.
This is followed by the second (written) state examination. The sixth year belongs to the practical year (PJ for short) - divided into three tertials. After these twelve months, the third (oral) state examination takes place.
Practical year
If you have any questions, complaints, criticism and/or suggestions regarding your studies, you can find information here:
StudentCouncil of your subject (student representation:
Liaison lecturer Dr. Ödemis
Dean of Studies Office . Questions to the Dean of Studies address will either be answered directly or you will be given an appointment for a personal meeting on request.
Contact persons & contact points for students
Contact persons and contact points for students, as of 01.02.2022
Dean of Studies

Prof. Dr. Karsten Witt

Dr. Kirsten Gehlhar

Miriam Krenke

Dr. Kirsten Gehlhar Carolin König Anne Dehlfing

Dr. Veysel Ödemis

Study

Stephanie Baszczok Anne Dehlfing Sonja Gellermann Anna Thümler Sonja Weiz

Jana Deppermann

Exams

Carolin König (Head of Examination Coordination) Dr. Markus Jerominek Anna Thümler

Melanie Peters

Clinical Training Centre

Dr. Katrin Wüstenbecker Jan Liewig Sandra Heistermann Vivien Laukat

Vivien Laukat

General Medicine

Renate Kettmann

N.N.

Subject coordination

Dr. Cornelia Hinz

Sebastian Spanknebel

Dr. Nader El-Sourani

Contact persons at the hospitals

Sabine Gronewold

Sebastian Spanknebel

Evaluation

N.N.

Curriculum development and growth planning

Susanne Redeker

Further contacts Faculty VI

Dr. Johann Meyer

Other counselling services offered by the University

Student Service Centre (SSC), including:

Complaints Office
Disabled and chronically ill students
Studying with a child
Maternity leave for students

conTakt counselling centre for questions about sexualised discrimination and violence
In addition to providing advice and information about the possible dangers of ionising radiation during your studies or professional activities in the partner clinics, teaching hospitals, doctors' practices and other external facilities, our field of activity also includes the practical organisation of personal dosimetry.
Ionising radiation, as it is often used in medicine for imaging or therapy, can lead not only to deterministic damage but also to changes in the genetic material (stochastic damage) and thus contribute to the development of cancer. Therefore, the legislator has enacted a number of laws and regulations in the Radiation Protection Act and the Radiation Protection Ordinance to prevent or minimise the dangerous effects of ionising radiation.
Our goal is to integrate the legal requirements of radiation protection into your curriculum or professional activity in such a way that occupational health protection does not conflict with professional requirements. Radiation protection is health protection!
However, we need your help so that we can take action. Please contact us in good time (at least 4 weeks in advance) if you will have to deal with ionising radiation in the context of planned internships or activities.
For information on the necessity of personal dosimetric monitoring in the partner clinics and teaching hospitals as well as medical practices, please contact us.
We will advise you confidentially!
Radiation Protection Officer