Priv.-Doz. Jennifer Turner
Department of Social Sciences
(» Postal address)
Dr. Kimberley Peters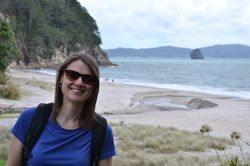 Kimberley Peters leads a research group in Marine Governance at the Helmholtz Institute for Functional Marine Biodiversity (HIFMB), a collaboration between the University of Oldenburg and Alfred Wegener Institute (AWI), Germany. Within this interdisciplinary centre Kimberley uses spatial frames for understanding how watery spaces are organised and managed, and takes a critical approach to interrogating operations of power at sea. Kimberley has published widely in the field of marine governance and maritime geography and, among other things, is the lead editor of The Routledge Handbook of Ocean Space.
As part of her work on interrogating the organisation and management of ocean space, one of Kimberley's research interests is Carceral Seas: Crime, Governance and Mobilities. Much of this work is historical in focus, seeking to question how past oceanic events can help us understand contemporary concerns. To date, Kimberley's research has explored this interest in relation to the case study of offshore radio piracy in her monograph Sound, Space, Society: Rebel Radio, which questions how historical transgressions led to a change in the law of the sea.
For the past 8 years Kimberley has been working on various projects concerned with the seemingly contradictory relationship between 'carcerality' and the 'sea' (with Jennifer Turner) in a historic and more recent context. Carceral spaces are those defined as closed, controlled, confined. The sea is often characterised in opposition – as the most 'free' and 'open' of space. However, as geographers (historians and International Relations scholars) have demonstrated, the sea – a space often out of sight and mind, can offer a legal exception to the state and has thus frequently been used as a prison space to hold and contain, where state regulation can be circumnavigated for carceral purposes. It has also been used as a space across which to move and remove (and also return) 'unwanted' or 'undesirable' people from one territory to another via 'transportation' or prison ships. We have explored these ideas in a series of papers focussing on the convict ship. Our most recent work understands the sea, and lifeworlds, labour, activities, and relations with more-than-human life, as 'carceral'. Together with Jennifer Turner she is co-editor of Carceral Mobilities: Interrogating Movement in Incarceration and a special section of Political Geography on 'Carceral Seas'.
Future work is now developing with Paula Satizábal. Paula's work sits at the intersections of marine geography, political ecology and studies of blue justice. Together we are developing a range of work that considers issues of borders, blue crime, (in)justice, dispossession and ultimately, the uneven and unequal power dynamics that are part and parcel of marine management regimes.