Business Information Systems / VLBA
Business Information Systems / VLBA

...to the department Business Information Systems / Very Large Business Applications (VLBA).
The scope of research and teaching covers large corporation-wide business and business-to-business (b2b) information systems. The VLBA department also focuses on operational environmental information systems (BUIS), business intelligence (BI) and big data. We work closely with the Institute of Informatics OFFIS e.V. in various research projects (e.g. NetzDatenStrom and enera) in energy and smart city contexts regarding questions and applications that concerns data science, Internet of Things and Industry 4.0.
On our website, we present individual research topics and information on selected national and international projects.
We are looking forward to your interest and inquiries regarding co-operation, further projects, academic thesis, etc.
09.05.2022: FREE Project Training and Management Meeting in Vilnius, Lithuania

On the 09.05.2022 project partners of the Erasmus+ project FREE (Female Academic Role Model Empowerment, Equality and Sustainability at Universities in Mediterranean Region: towards 2030 Agenda) joined together at the Vilnius Gediminas Technical University, Business Management Faculty, in Lithuania for a FREE training day and a management meeting.
Project partners from Lebanon, Syria and Jordan shared their progess on writing National Policy Papers on Gender Equality, their experiences with their newly founded Gender Equality Centres and had the chance to disseminate the successes of the project widly during the ongoing International Week at Vilnius Gediminas Technical University.
At the end of May FREE trainings will continue during a week of workshops at the Universidad Nacional de Educación a Distancia (UNED) in Madrid, Spain.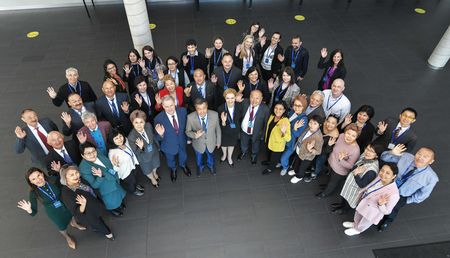 ---
02.05.2022: NEMo diskutiert mit anderen Projekten zum Thema ländliche Räume
Vertreter:innen aus der Praxis diskutierten mit NEMo über kommende Entwicklungspfade der Mobilität im ländlichen Raum. © hri (Wildeshauser Kreiszeitung)
Der Landkreis Oldenburg weist durch seine Pendlerbeziehungen ins Umland eine starke Mobilitätsproblematik auf. Neue Konzepte sind erforderlich, um die Herausforderungen, die in diesem Bereich bestehen, in den kommenden Jahren angehen zu können. Zum Thema "Mobilität im ländlichen Raum" veranstaltete die CDU in Wildeshausen unter Beteiligung des NEMo Projektes (Nachhaltige Erfüllung von Mobilitätsbedürfnissen im ländlichen Raum) eine Diskussionsrunde mit Praktikern und interessierten Bürger:innen.
Johannes Schering und Cedrik Theesen stellten die wichtigsten Ergebnisse des 2020 abgeschlossenen Projektes vor. Prof. Jorge Marx Gómez war online zugeschaltet, um weitere Einblicke in die Forschungsarbeit zu geben. Die Fahrkreis-App verknüpft den ÖPNV sowie weitere Mobilitätsangebote mit privaten Verkehren. Bürger:innen können so das verfügbare Angebot erweitern, was für viele Institutionen (z.B. Betriebe, Schulen) interessant sein kann, um der Herausforderungen der Mobilität im ländlichen Raum und der starken Abhängigkeit vom privaten Pkw entgegen wirken zu können. Auch der Fahrradverkehr spielt beim Mobilitätswandel eine wichtige Rolle. In diesem Kontext wurden auch die Projekte SmartHelm und INFRASense den interessierten Zuhörer:innen vor Ort und im Internet näher gebracht.
Die Wildeshauser Kreiszeitung hat zu der Veranstaltung einen Artikel veröffentlicht, den Sie hier finden können.
---
27.04.2022: "MobiLe - Mobilitätswende @ Lebensqualität" Kick-off Meeting
On April 27th, 2022, Kick-off Meeting for "MobiLe - Mobilitätswende @ Lebensqualität" project took place in presence at the University of Oldenburg. The cooperation partners Stadt Norderstedt and associated partners Mosche Design attended to this kickoff meeting. Tasks achieved in Phase 1 and goals to reach in Phase 2 are addressed at this meeting. Furthermore, certain MobiLe-related projects (SmartHelm, INFRASense) were discussed, and online meetings will be held regularly to share information about other relevant projects.
This research project mainly aims to provide a novel decision support tool for transport-related decisions that consider the transport system together with other aspects of a qualitative urban development aiming at sustainability in their systemic interaction.
The VLBA's main responsibilities for this project are to develop and host a website and web app that enables local politicians to perceive and consider the complexity and interdependencies of the municipal transport system (better) through easy-to-use software. It will also enable local politicians to assess the complex impacts of transportation-related decisions independently and at an early stage.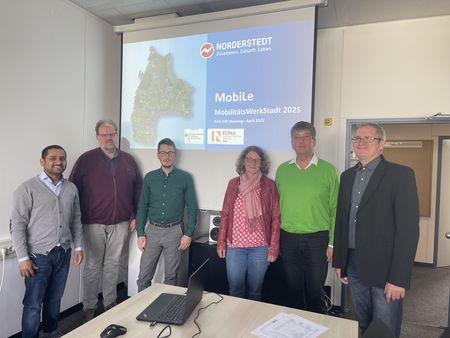 Partners involved
Stadt Norderstedt
Carl von Ossietzky Universität Oldenburg
Associated Partners
MOSCHDESIGN
e-fect dialog evaluation consulting eG
The overall project is managed by the Stadt Norderstedt as an in-house effort.
---
Halberstadt, J., Marx Gómez, J., Greyling, J., Mufeti, T.K., Faasch, H. (Eds.)
Resilience, Entrepreneurship and ICT
Further Information is provided via Publications or by clicking on the book.
Pedrycz, W., Martínez López, L., Espin Andrade, R.A., Rivera Zárate, G., Marx Gómez, J. (Eds.)
Computational Intelligence for Business Analytics
Further Information is provided via Publications or by clicking on the book.
Jorge Marx Gómez, Jantje Halberstadt, Anna Henkel, Frank Köster, Jürgen Sauer, Jürgen Taeger, Andreas Winter, David M. Woisetschläger
Progress in Sustainable Mobility Research
Further Information is provided via Publications or by clicking on the book.
Manuel Mora, Jorge Marx Gómez, Rory V. O'Connor and Alena Buchalcevová
Balancing Agile and Disciplined Engineering and Management Approaches for IT Services and Software Products
Further Information is provided via Publications or by clicking on the book.
Jorge Marx Gómez, Andreas Solsbach, Thomas Klenke, Volker Wohlgemuth (Hrsg.)
Smart Cities/Smart Regions – Technische, wirtschaftliche und gesellschaftliche Innovationen
Konferenzband zu den 10. BUIS-Tagen
Further Information is provided via Publications​​​​​​​ or by clicking on the book.
Jorge Marx Gómez, Mousell Sulaiman
Modernizing the Academic Teaching and Research Environment
Methodologies and Cases in Business Research
Further Information is provided via Publications or by clicking on the book.