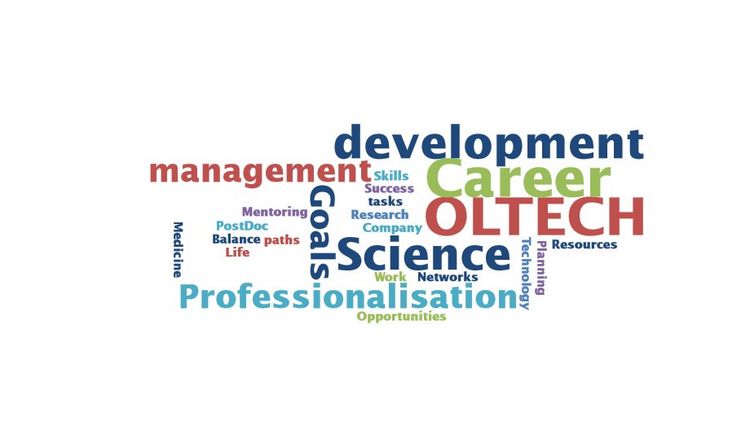 Principles of Effective Career Support in Academia
As the largest research funding organisation and the central self-governing body for research in Germany, the Deutsche Forschungsgemeinschaft (DFG, German Research Foundation) attaches great importance to promoting researchers at an early stage of their career and has established this as a statutory objective.
OLTECH Network of Alumni and Active doctoral candidates
Career paths
OLTECH – Career paths in Science, Medicine and Technology
...And all of a sudden, your doctoral project is almost complete…
You have mastered complex experiments and data analyses, talks in front of large audiences, the business of publishing your results and you are looking forward to your doctoral defence. But what will come next? A tricky question sometimes, as there are either too many different paths you could take or the prospects seem far too vague. Some guidance would be helpful, and this is exactly what OLTECH's new event series is about.
"Career paths in Science, Medicine and Technology" offers you the chance to meet OLTECH alumni and other role models, to hear from their experiences, and to interact with them. You will learn about a variety of career paths and get insights into different areas of work, in particular jobs outside of academia. Our guest speakers will talk about their current position, the moves that got them there, the relevance of skills acquired during their doctoral studies and will be ready for your questions.
The event series is a joint initiative of all doctoral study programmes of OLTECH. All doctoral students are welcome!
Details:
| | |
| --- | --- |
| Format: | Online event. Two guests present their careers paths. Each presentation consists of a 20-minute talk and 10 minutes are reserved for questions and discussion. Afterwards, you have the opportunity to chat with the guest speakers in a more informal atmosphere. |
| Date: | First Tuesday of each month, from 4:00 to 5:30 p.m. |
| Registration: | via Stud.IP |
Date

Speaker

Background / Institution / Postition

28.02.2023

Head of laboratory of the University clinic of Gynaecology and Obstetrics of Carl von Ossietzky University Oldenburg, with an immunological and oncological focus. She is building, organizing and leading the laboratory for Prof. Malik, chief physician of the Gynaecology and Obstetrics at Klinikum Oldenburg.

TÜV NORD EnSys GmbH & Co. KG; Sachverständige Produktkontrolle radioaktiver Abfälle. Als Sachverständige in der Produktkontrolle radioaktiver Abfälle prüfe ich geplante Konditionierungsverfahren und anfallende radioaktive Abfälle auf Einhaltung der Endlagerungsbedingungen um Mensch und Umwelt vor den Gefahren ionisierender Strahlung zu schützen.

06.12.2022

Environmental education: Florian Carius is Head of Department for Communications and Research of the Lower Saxon Wadden Sea National Park Authority based in Wilhelmshaven. Furthermore, he is affiliated to the Bremen City University of Applied Sciences as Adjunct Lecturer for Protected Area Tourism. His academic background extends to the fields of tourism, sustainability and development." https://www.nationalpark-wattenmeer.de/

works at the Federal Office for Chemicals in Dortmund in the section Authorisation of Biocides. Before she was working at the Federal Environment Agency (Umweltbundesamt, UBA) as research assistant in the Biocides department and reviewing whether biocidal products and their active substances pose a risk for the environment.

11.10.2022
Dr. Kai Flathmann

Kai Flathmann is working at KPMG International Limited, a multinational professional services network, and one of the Big Four accounting organizations. To quantify their risks, banks use mathematical models to estimate, among other things, the effects of risk factors (e.g. customer behaviour) on the key figures relevant to them. The regulatory framework stipulates that the appropriateness of the methods and procedures used must be checked by validation independent of the model development.This is done, for example, with the help of statistical tests, sensitivity analyses and comparisons with challenger models. External consultants are often asked to assist with this task.

03.05.2022

As Patent Attorney candidate Jannes is working at Eisenführ Speiser since March 2021. Eisenführ Speiser is a full-service IP law firm with a mixed team of specialists including both patent attorneys and attorneys-at-law. At its four locations in Bremen, Munich, Berlin, and Hamburg, Eisenführ Speiser serves a broad national and international client base.

01.03.2022

Dr. Ayham Zedan is working at CryTek GmbH, Frankfurt a.M. as video game Data analyst / data engineer with tasks in database construction, analysis solutions and product management of a computer gaming engine.

Dr. Miriam Ruddigkeit is Senior Specialist Product Development Flexible Foam at BASF Polyurethanes GmbH

01.02.2022

Dr. Sebastian Breuer is Lab Head HTS & Project Leader at pRED at Roche. Roche is a global pioneer in pharmaceuticals and diagnostics focused on advancing science to improve people's lives.

Dr. Ulrike Brandt-Bohne is a biologist working in the field of science communication as a trainer at the National Institute for Science Communication. She also contributed as editor of the portal Wissenschaftskommunikation.de and is a freelance moderator of Science events.

07.12.2021
Dr. Antje Cordshagen

Scientific Executive Assistant at Novo Nordisk Foundation Center for Basic Metabolic Research, University of Copenhagen

Leitung Qualitätsmanagement, Informationsbeauftragte und Koordinatorin bei Gesellschaft für Transplantationsmedizin

05.10.2021




former member of ICBM working Group Geoecology. Now working at Landesverband Niedersachsen, Bund für Umwelt und Naturschutz Deutschland e.V. (BUND), Friends of the Earth Germany, project leader "Kommunaler Wettbewerb - Köpfchen statt Kunststoff".

former member of IBU working group Neurosensorik/Animal Navigation. Now working at Chimera Biotec GmbH as project manager, providing Bioanalytical Support in Drug Development