Angela McRobbie
Mercator Fellow from Oktober 1st 2016 till Januar 31st 2017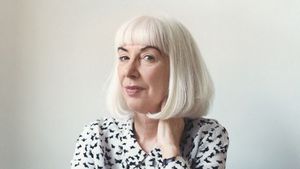 Angela McRobbie is Professor of Communications at Goldsmiths, University of London. She began her academic career in the mid-1970s at the Birmingham University, Centre for Contemporary Cultural Studies where she completed her dissertation on girls' magazines under the direction of Stuart Hall. That work, along with a number of other key articles, was duly published many times over and was translated into several languages and has come to be associated with the 'Birmingham School'. Since then she is author of several books and hundreds of peer review scholarly articles. Her fields of expertise include; young women and sexuality, gender and popular culture, the rise of the creative economy, fashion start-ups and social enterprise, gender and the modern work economy, neoliberalism and the 'gender regime'.
Angela McRobbie holds a number of grants and awards including CREATE AHRC-funded 'Fashion Start Ups and Micro-enterprises in London, Berlin and Milan', and EU-funded SMART JUMP 'Gender and Creative Entrepreneurship' (Principal Investigators Venice Italy).
Angela McRobbie has degrees from Glasgow University, Birmingham University and Loughborough University. She has recently been elected a Fellow of the Royal Society of Arts, UK. She is a regular contributor to BBC Radio 4, the Guardian, openDemocracy, she has also written for Tagesspiegel Berlin, Die Zeit, and has been interviewed for SDZ.
Angela lives in London and Berlin.
Die neusten Bücher von Angela McRobbie:
Be Creative: Making a Living in the New Culture Industries (2015),
The Aftermath of Feminism: Gender, Culture and Social Change (2008),
The Uses of Cultural Studies (2005),
British Fashion Design: Rag Trade or Image Industry? (1998).
The Aftermath of Feminism is available (2nd Ed) in German as Top Girls, VS Verlag.
Zu den neusten Artikeln gehören u.a.:
A. McRobbie (2016) 'Towards a Sociology of Fashion Micro-enterprises: Methods for Creative Economy Research' in Sociology BSA, October.
A. McRobbie (2016) 'Stuart Hall, Art and the Politics of Black Cultural Production' in South Atlantic Quarterly, October.
A. McRobbie (2015) 'Notes on 'The Perfect'' Australian Feminist Studies.
A. McRobbie (2013) Feminism, the Family and the New 'Mediated' Maternalism' in New Formations no 80/81 Special Issue of New Formations
The following events with Angela McRobbie will be realized in the Research Training Group Self-Making during the winter term 2016/17:
First Session:

December 2nd 2016
Lecture & Workshop: The Artist as Human Capital: Self-Making in Creative Economy

Second Session:

January 7th 2017
Lecture & Workshop: Fashion Start Ups and UrbanMicro Economies: Self-Making and Cultural Entrepreneurship

Third Session:

February 3rd 2017
Lecture & Workshop: Feminism, Femininity and the Popular Culture of Neoliberalism

Fourth Session:

N.N.
All lectures and workshops are generally open to students and employees of the university.
The amount of participants in every event is limited. Please sign up in advance to participate: selbstbildungen@uol.de