Resources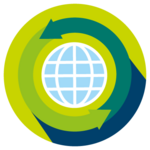 The sustainable use of resources along the value chain is also playing an increasingly important role at universities and colleges. Whether in the procurement of products or in waste and disposal management - everywhere there are a number of levers for more sustainable development.
Carl von Ossietzky University is one of the few universities to include the area of procurement in the balancing of greenhouse gas emissions as part of the climate protection project. In the action workshop on the topic of resources on 24 June, purchasing and waste disposal management will be considered together in order to develop holistic solutions for the careful use of resources. Sufficiency-oriented approaches will also play a major role.
Since December 2021, Carl von Ossietzky University has been officially certified as a FairTrade University certified.
Sufficiency projects
Let's cycle up!
As part of the module mkt275 "Textile Ecology, Consumer Protection and Sustainability Project", a group of students developed and launched the Stud.IP platform. Let's Cycle Up and brought it into being. On this platform, ideas and knowledge can be exchanged on how old furniture can be refurbished and repurposed. The main aim is to counteract the waste of resources and the throwing away of old furniture.
On this page, ideas, materials, tools and furniture can be exchanged and shared. For example, open paint can be used up and old furniture can be given a new life as individual pieces.
Anyone who would like to actively exchange views on this topic can also participate in a Study group to exchange views on the topic.
Measures from climate action concept
The following list of measures for the field of action " Resources " is an excerpt from the Integrated Climate Action Concept. A more detailed view of the respective sub-measures is also available there.
Extending the useful life & lifetime of products & materials
Revision of the purchasing guideline with regard to sustainability and climate protection criteria
Revision & introduction of central standards
Development & implementation of a concept for sustainable laboratory management