Ecology and Nature Conservation
Anna Sarah Krämer
COAST - Zentrum für Umwelt- und Nachhaltigkeitsforschung
(» Postal address)
Become a Student Ambassador
Are you studying at the University of Oldenburg and would like to become part of the Nature Positive University?
Then register here as a Student Ambassador, become part of the network and get in touch with us to make the university more nature-friendly and environmentally friendly!
Ecology and Nature Conservation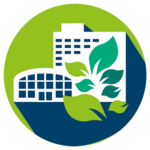 Sustainability and environmental protection are not topics that are dealt with in a vacuum at Oldenburg University. Consideration of the campuses and properties as a habitat for not only people but also flora and fauna is also coming more and more into focus.
A more ecological design of the areas also plays an important role under the urgent biodiversity crisis and the great species extinction. In the approach of thinking these relevant crises together with the climate crisis, the current preparation of the Integrated Climate Protection Concept the field of action "ecology of the campus" is also being addressed.
Nature Positive University
Nature conservation on campus
Measures from climate action concept
The following list of measures in the field of action Ecology of the Campus is an excerpt from the Integrated Climate Action Concept. A more detailed view of the respective sub-measures can also be viewed there.
"Forest Campus"
Facade & roof greening
Develop a comprehensive utilisation concept for all areas
Biodiverse design of green spaces
Promote environmental education on campus