Presenting Student Research
Presenting Student Research
forschen@studium provides students with two options to present or publish their research.
Presenting student research at (online) conferences
This is funded partially by forschen@studium. For more information, please refer to the page Funding and Support.

Online Student journal forsch!
Students can publish their research in the online journal forsch!. Please see below for more details.
Some examples of student research projects are featured on our Showcase page.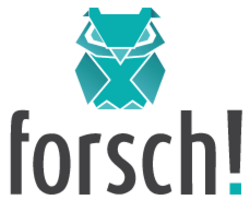 forsch! (German imperative for 'research!') is the University of Oldenburg's online student journal – platform where students can publish their own academic writing and make it accessible outside the classroom. Research projects, term papers, and other course assignments can be submitted. Submissions are evaluated by two reviewers and will be published if they receive positive feedback and after necessary revisions – where required – have been made.
The goal is to give students a chance to enhance their academic writing and argumentation and to learn how to present their research to an interdisciplinary audience.
All of this and much more can be found on the forsch! website.
What is student publishing?
Students do not only do research for their theses. They also research other contexts and produce interesting and relevant results. Despite this, these texts often just end up in the drawer after they have been graded and fulfilled their use of getting credit points. The main objective of the student journal forsch! is to raise the visibility of student research and to make insights worth reading available to a broader audience. forsch! welcomes submissions in various formats, reflecting multiple perspectives of student research. This is why we have different categories for different types of submissions: research paper, essay, research proposal, experimental format or abstracts of distinguished theses.
forsch! is an Open-Access journal, which means that all published works can not only be viewed online, but also downloaded free of charge. This raises the visibility of the publication and increases your impact, leading to a variety of potential uses not only within the academic community but also among the general public. forsch! is published through Open Journal Systems, an open source software used to manage and publish academic journals. It was developed by the Public Knowledge Project, an international collaboration project among several universities.
How can I publish my own research?
All undergraduate and graduate students of German Universities can publish their work in the online student journal forsch!.
To help you publish your work, forsch! provides a host of background information about the publishing process:
Style guide, including information about proper citation and reference list

A detailed description of content-related requirements for submissions

Document templates for different categories of submissions

Step-by-step instructions guiding you through different stages of the publication process

Explanation of the peer-review process following the submission of your article.
We support authors with all other issues they may have regarding their submission for forsch!. At , our editorial team is there to help you. Good luck with your reserach!