Curriculum
Information requests about the program:
General questions regarding studies in Oldenburg:
Curriculum
The program takes 2 years to achieve 120 ECTS credit points.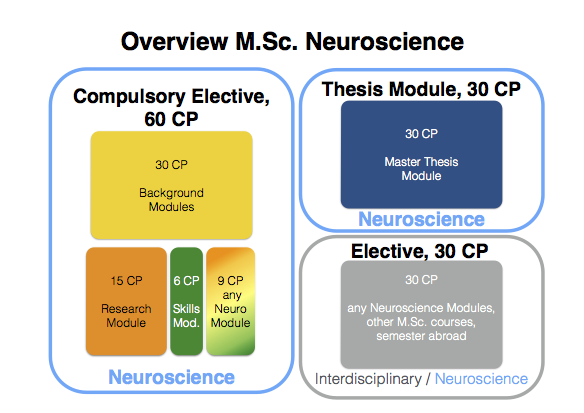 There are no obligatory courses in the M.Sc. Neuroscience program (except for the Master's thesis) – you can design your own curriculum according to your interests within the following rules. The program requires 120 credit points (ECTS):
30 ECTS (or more) Neuroscience background modules. These courses are mostly held as full-time blocks of 2 – 7 weeks length during lecture times (see module list), corresponding to 6 or 12 ECTS.
15 ECTS (or more) Neuroscience research modules. These individual research projects (each 15 ECTS) in a neuroscience group in Oldenburg or externally at a different university or research center can usually be done with flexible timing.
6 ECTS (or more) Neuroscience skills modules. These courses take place either as block courses during the semester breaks or use late afternoon time slots to make them compatible with the other modules.
9 ECTS (or more) additional modules from the M.Sc. Neuroscience curriculum of any
30 ECTS free choice – Any modules from the M.Sc. Neuroscience curriculum, or courses from other Master's programs (i.e. M.Sc. Neurosciences at the University of Bremen, M.Sc. Neurocognitive Psychology, selected modules of other programs) or from studies abroad. Up to 6 ECTS (ungraded) can come from a language course.
30 ECTS Master's thesis.