Faculty and Staff
Information requests about the program:
General questions regarding studies in Oldenburg:
Faculty and Staff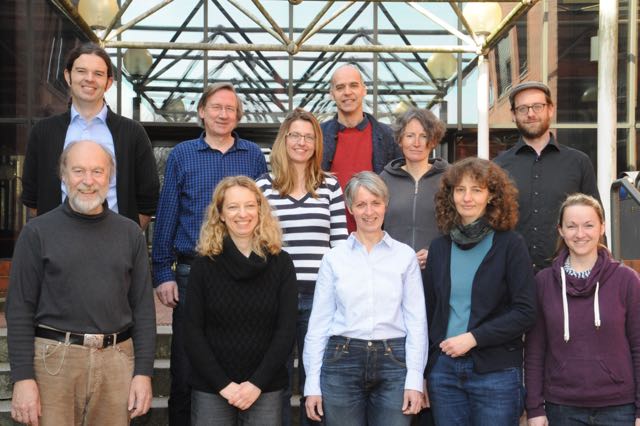 A list of all research groups including teachers, research areas and methods at the University of Oldenburg can be seen (soon to be updated) . This list gives you an overview of the possible research groups you can take part in order to complete your research module.
A more advanced and current list with groups sorted according to their departments can be viewed here.
name
affilitation
short description
methods & subjects

Dr. Jörn Anemüller

Department of Medical Physics and Acoustics, Faculty VI

Statistical signal models,
Signal processing, Machine learning, Computational neuroscience

Signal processing, Acoustics, Statistics and machine learning, data analysis
- - - - - - - - -
BM: neu250,neu320
RM: neu600

Prof. Dr. Anja U. Bräuer

Department of Human Medicine, Faculty VI

Functional analyses of phospholipds in the neuronal network,
signaling transduction analysis during neuronal differentiation,
molecular mechanisms during synaptogenesis,
phospholipid profile analyses

Molecular Biology,
Immunhistology,
Lipid-analysis,
Cell Biology,
Life-Cell-imaging
- - - - - - - - -
RM: neu600

Apl. Prof. Dr. Karin Dedek

Institute of Biology and Environmental Science,
Faculty V

Localization and function of gap junctions in the mouse retina,
Functional role of retinal interneurons

Retina,
electrophysiology,
patch-clamp,
quantitative immuno-histochemmistry,
STED/confocal microscopy
- - - - - - - - - - -
BM: neu141,neu150
RM: neu600

Prof. Dr. Mathias Dietz

Department of Medical Physics and Acoustics, Faculty VI

BM: neuXX

Dr. Carsten Gießing

Department of Psychology,
Faculty VI

Cognitive neuroscience,
Functional neuroimaging,
Complex networks

BM: neu220,neu300
SK: neu800

Prof. Dr. Martin Greschner

Division of Visual Neuroscience

Department of Neuroscience,
Faculty VI

Retina, Visual system,
Elektrophysiology, Multi-elektrode-array,
Visual coding

BM: neu241,neu141,neu350
RM: neu600

Dr. Anna-Maria Hartmann

Department of Neuroscience,
Faculty VI

Cation-Chloride Co- transporter,
KCC2,
Evolution,
Analysis of structure-function relation-ships

Molecular Biology (cloning, SDM),
Biochemistry (protein purification, flux measurements),
Evolutionary Biology (alignment, phylogenetic trees)
- - - - - - - - - - -
BM: neu280,neu350
RM: neu600

Prof. Dr. Jannis Hildebrandt

Division of Auditory Neuroscience

Department of Neuroscience,
Faculty VI

Auditory Neuroscience,
Systems Neuroscience,
Behavioral Physiology

optogenetics,
electrophysiology,
data Analyis,
animal behavior, histology
- - - - - - - - - - - -
BM: neu210,neu241,neu220
RM: neu600
SM: neu710,neu760,neu790

Apl. Prof. Dr. Ulrike Janssen-Bienhold

Division of Visual Neuroscience

Department of Neuroscience,
Faculty VI

Molecular and cellular neuroscience,
Neuroanatomy,
Signal transduction in the nervous system,
Vision research

BM: neu141,neu150
RM: neu600

Prof. Dr. Georg Klump

Division of Animal Pyhsiology and Behaviour

Department of Neuroscience,
Faculty VI

Behavioural Physiology,
Systems Neuroscience,
Animal Psychoacoustics,
Neuronal processing in the auditory pathway,
Communication

BM: neu210,neu220,
neu310,neu350,neu360
RM: neu600
SM: neu751
Prof. Dr. Karl-Wilhelm Koch

Department of Neuroscience,
Faculty VI

Retinal phototransduction,
Calcium-sensing proteins,
Guanylate cyclases,
Molecular basis of congenital retinal degeneration,
Receptors and signal transduction

cloning procedures,
site-directed mutagenesis,
protein expression and purification,
functional characterization of proteins in a cellular context,
protein-protein interaction
- - - - - - - - - - - -
BM: neu350, bio605,
bio695
RM: neu600

Prof. Dr. Christine Köppl

Division of Cochlea and Auditory Brainstem Physiology

Department of Neuroscience,
Faculty VI

Physiology,
Anatomy and evolution of hearing

BM: bio845,bio846,
neu360
RM: neu600
SM: neu730,neu751,
neu760,neu790
Prof. Dr. Jutta Kretzberg

Division of Computational Neuroscience

Department of Neuroscience,
Faculty VI

Computational Neuroscience,
Sensory physiology,
Neuronal coding,
Invertebrate Neuroscience

Modeling,
Statistical Data Analysis,
Intracellular Electrophysiology,
Voltage Sensitive Dyes
- - - - - - - - - - - -
BM: neu241,neu250,
neu141,neu340,neu345
SM: neu790
RM: neu600

Dr. Ulrike Langemann

Division of Animal Pyhsiology and Behaviour

Department of Neuroscience,
Faculty VI

Zoology,
Sensory physiology

BM: neu210,neu310
SM: neu751
Prof. Dr. Henrik Mouritsen

Insititute for Biology and Environmental Science,
Faculty V

Animal navigation,
Magnetoreception

BM: neu210

Prof. Dr. John Neidhardt

Department of Human Medicine,
Faculty VI

Human genetics,
Therapy development,
Eye diseases,
Retinal degeneration,
Hearing impairment

BM: bio605,neu280
RM: neu600
Prof. Dr. Hans Gerd Nothwang

Department of Neuroscience,
Faculty VI

(Epi-)genetics,
Developmental biology,
Evo-devo,
Deafness,
Auditory system

BM: bio845,bio846,
neu280

Dr. Fabian Otto-Sobotka

Department of Health Services Research
Faculty VI

Quantile regression,
Expectile regression,
Geostatistics,
Semiparametric regression,
Boosting

Semiparametric Regression,
Expectile and Quantile Regression,
GAMLSS,
Boosting,
Spatial Statistics,
Instrumental Variables,
Graphical Models
- - - - - - - - - - - -
SM: neu720, neu770

Dr. Christian Puller

Division of Visual Neuroscience

Department of Neuroscience,
Faculty VI

BM: neu350, neu150,
neu141
Prof. Dr. Jochem Rieger

Applied Neurcognitive Psychology Lab

Department of Psychology,
Faculty VI

Human neurophysiology of perception and action,
Brain machine interfaces,
Statistical learning in neurophysiology,
fMRI,
MEG/EEG,
Electrocorticography

BM: neu250


Dr. Alexander Scholten

Department of Neuroscience,
Faculty VI

Phototransduction in the retina,
Neuronal calcium sensor proteins,
Guanylate cyclases,
Molecular basics of inherited neurodegenerations in the retina

BM: bio695
Dr. Ulrike Sienknecht

Division of Cochlea and Auditory Brainstem Physiology

Department of Neuroscience,
Faculty VI

Developmental Biology,
Evolution,
Vertebrates,
Auditory System

BM: bio845,bio846
RM: neu600
SM: neu730

Dr. Peter Sörös
Department of Human Medicine,
Faculty VI
BM: neu305
Prof. Dr. Kathrin Thediek

European Medical School (EMS) - University of Groningen (NL) and University of Oldenburg (G)

Metabolic signaling,
Mammalian Target of Rapamycin (mTOR),
Cell growth and ageing,
Protein homeostasis

BM: bio605
RM: neu600
SM: neu740
Prof. Dr. Christiane Thiel

Department of Psychology,
Faculty VI

Cognitive neuroscience,
Functional neuroimaging,
Psychopharmacology

fMRI,
behavioural experiments,
pharmacological interventions
- - - - - - - - - - - -
BM: neu220,neu300,neu280

Dr. Riklef Weerda

Department of Psychology,
Faculty VI

BM: neu305
Prof. Dr. Michael Winklhofer

AG Sensorische Biologie der Tiere

Insititute for Biology and Environmental Science,
Faculty V

BM: neu290
SM: neu780