News Single View
Diving for science
For those who like the idea of combining scuba diving with science, the Scientific Diving course at the Institute for Chemistry and Biology of the Marine Environment is an ideal option. Upon successful completion, participants are certified to dive on scientific missions.
The large pool at the university's pool complex is only about four metres deep, but divers in wetsuits with diving regulators and other diving equipment are a common sight here. This is where they practise for diving expeditions in the sea, rivers and lakes. Each year about ten to twelve participants complete the "Scientific Diving" course at the University of Oldenburg's Institute for Chemistry and Biology of the Marine Environment (ICBM) – one of only eight institutions in all Germany which offers such a course.
Many of the participants are students of subjects like biology or environmental sciences. The course costs 1,640 euros, and they can have it counted towards their studies. Participants complete a comprehensive two-semester programme: in addition to weekly diving practice sessions in the university swimming pool there are theory phases with the corresponding exams, intensive phases with daily training, and several weeks of excursions in the Oldenburg region and to Wilhelmshaven on the North Sea coast and also Denmark.
Participants learn how to handle diving equipment and conduct research under water – including simple technical procedures or taking photos. Social and communication skills are also on the agenda: participants learn about the different roles in a diving team, practise communicating without words and simulate rescue situations. Those who pass the exams are qualified to dive on scientific expeditions in accordance with the regulations of the German Social Accident Insurance (DGUV), which conducts the exams.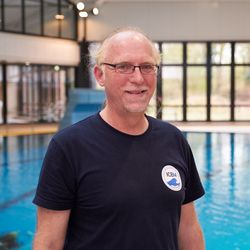 Frank Donat – Chief Instructor
"I came to scientific diving while I was studying biology, and completed my training course on the island of Helgoland. In 1999 I began setting up my own training programme in Oldenburg together with a group of colleagues. I've been Training Supervisor since 2005.
One of my tasks is to prepare the training sessions. In each course, three to four research assistants work as instructors. Together we discuss the status of each participant and which tasks to set in the upcoming sessions. In addition to the actual training, I have a lot of organisational tasks too: conducting regular checks of all the equipment, preparing the theory phases, coordinating exam dates, correcting exams, and so on.
Time after time, exploring the underwater world has given me amazing experiences – for example on our excursion to Denmark, when we can observe porpoises, fish, invertebrates and large algae. What I like about scientific diving is that it hones both your physical and social skills. Not only do you have to get used to outdoor water temperatures, but you are also confronted with unfamiliar social situations. There are clear hierarchies in diving teams: the person leading the group has to make decisions for others in emergency situations, for example. For many students, taking on such a role is an unusual experience."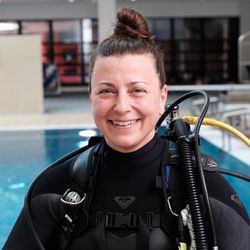 Katja Fiegener – recently completed the course
"I've always loved sports: in my free time I go running, swimming and do yoga. I've been interested in diving for a long time, and last summer I got a diver certification. After that it was clear to me that I also wanted to do the course to become a scientific diver. I did it alongside my bachelor's degree in environmental sciences. In addition to the athletic challenge I'm particularly interested in doing scientific work underwater and study living creatures in their natural environment. I'd especially like to dive in cooler waters or in the polar regions.
I think it's important to keep doing sport alongside training in order to stay physically fit. But this course also requires mental skills: in rescue exercises, for example, it's a matter of memorising certain sequences of actions and implementing them accurately. This combination of mental and physical effort sometimes left me pretty exhausted after training.
What I particularly liked about the programme was the sense of solidarity in the group. I know that I can rely on everyone one hundred percent. That's something I haven't seen so much in normal university classes, and it's another reason why I'd love to become an instructor later on and help others through their training."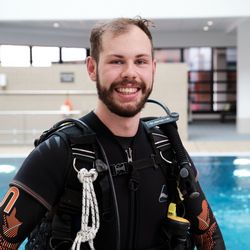 Jesper Nadolny – recently completed the course
"The chance to train as a scientific diver was one of the main reasons why I decided to study at the University of Oldenburg. I study environmental sciences and now I've learned to dive while doing my bachelor's degree. I couldn't do that before the course, although I've always felt a strong connection to the water: I've been going to swimming training on a regular basis since I was six years old.
A particular challenge for me in this course was to stay calm and work quickly at the same time. This is crucial when you're setting up equipment that can be of critical importance in an emergency. I first had to get used to the breathing equipment. In the beginning I intuitively tried to breathe in and out very deeply. But that's actually counterproductive.
When it came to fitting my training in with my studies, I had to set priorities. I made sure to take fewer courses in other subjects during the time I was doing the scientific diving course and I also considered leaving my part-time job. But on the other hand, I can already reap the benefits of my training during my studies: My degree programme includes a two-month internship during which I want to do scientific diving. I could also imagine taking samples underwater for my bachelor thesis."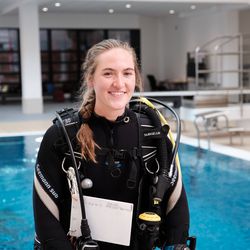 Lisanne Küppers – former instructor
"I completed my training as a scientific diver in 2021. I particularly enjoyed the good relationship with the instructors. The idea that others should also benefit from this was one of the reasons I wanted to become an instructor. In addition, the work also helped me to keep up my own training.
After completing the course, I went on various assignments. I helped to install Autonomous Reef Monitoring Structures (ARMS) on the seabed in the Borkum Riffgrund and the Sylt Outer Reef. ARMS are PVC panels that are screwed together one on top of the other and serve as an artificial reef. We also made video recordings to document the biodiversity. The technical work was not all that complex, but the movements underwater are very different from those on land, so you need to have certain technical skills for this work.
No two scientific dives are the same: the challenges vary depending on the kind of waters you are diving in and the kind of work you are doing. The course gave me a good foundation for mastering different tasks. And as an additional qualification it's a plus for many job applications and can also be very helpful for my own projects, for instance sampling. I would like to continue diving in different projects in the future."