Safe Automation of Maritime Systems - SAMS
Safe Automation of Maritime Systems - SAMS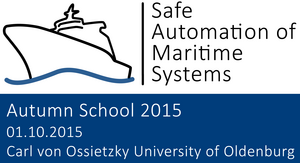 Safe Automation of Maritime Systems - SAMS
Shipping is always a joint undertaking of humans and their technology. The increasing usage of the oceans for transportation, fishing, exploration and even recreation increase threats for humans, the environment and even the economy in case of disrupted supply chains. Consequently, the challenge faced by marine engineers and the scientific community is designing save and environment friendly maritime systems. In order to facilitate research in the domain of integrated and save maritime supervision, control and assistance technology, the PhD program "Save Automation of Maritime Systems (SAMS)" was approved and initiated. SAMS is a joint PhD program of the University of Oldenburg, the Jade University of Applied Science and the research institute OFFIS. It is funded by the federal state of Lower Saxony.
SAMS offers 15 three year scholarships in a period between 2014 until 2019.


scholarships enabling the doctoral students to concentrate on their PhD projects
a cooperative and supportive research environment
supervision by two expert professors and by OFFIS researchers
support for traveling and conferences
international exchange
a full spectrum of opportunities for knowledge acquisition
a three year scheduled program to finish the Phd thesis
support for equal opportunities in science.