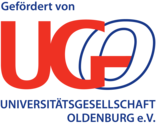 NLK 2020
The NLK will take place as an online meeting.
The University of Oldenburg would like to invite you to the 21st North German Linguistic Colloquium on March 25 and 26, 2021!

The North German Linguistic Colloquium (NLK) has existed since 1989 and is hosted annually by a different university in North Germany. The NLK is a platform for all ambitious linguists – from graduate to postdoctoral – and all areas of linguistics to share and discuss current research results and methods.
In addition to experienced researchers, young researchers and students in the final phase of their studies are also welcome to present their own research work at the NLK.
The motto of the 21st NLK is "Systems and Variations".