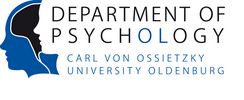 Research
Secretary:
Sandra Marienberg

Postal address:
Abt. Neuropsychologie
Department für Psychologie
Fakultät VI - Medizin und
Gesundheitswissenschaften
Universität Oldenburg
26111 Oldenburg

Anreise und Campusplan
Research
In the Neuropsychology lab we conduct research into the underpinnings of higher visual, auditory and motor functions. We apply non-invasive neurophysiological recording techniques, with the majority of studies using the electroencephalogram (EEG) as method of choice. Our lab features state-of-the-art stationary EEG equipment but also fully mobile EEG systems. Other techniques used by lab members include functional magnetic resonance imaging (fMRI), near infrared spectroscopy (NIRS), or magnetoencephalography (MEG). Psychophysiological measurements are normally combined with behavioural measurements. We have a strong interest of taking advantage from combining different recording techniques such as for instance EEG and fMRI or EEG and NIRS. We also conduct research with different clinical populations such as cochlea implant users or patients with neurological impairments. The research in our lab is centred on two main areas. The first is the neurocognition of auditory, visual, and audio-visual stimulus processing, with most of the studies including an element of time or rhythm. The second main area of research comprises clinical neuropsychology, neurorehabilitation, and cortical reorganisation. Both research areas are informed by our efforts to advance truly mobile neurophysiological data collection and processing. For this we collaborate closely with Maarten De Vos, Oxford the Methods of Neurocognitive Psycholgy lab (LINK to Maarten). Mobile technology enables not only to study behaviour under realistic conditions but it is also an important step towards mobile Brain-Computer-Interfaces (BCIs) or neurofeedback applications for neurorehabilitation.