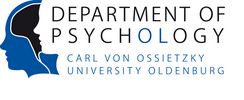 Teaching
Secretary:
Sandra Marienberg

Postal address:
Abt. Neuropsychologie
Department für Psychologie
Fakultät VI - Medizin und
Gesundheitswissenschaften
Universität Oldenburg
26111 Oldenburg
Anreise und Campusplan
Teaching
Here you can find an overview of modules or module parts that are taught by members of the Neuropsychology Lab. Please consult the full module catalogue for further details. We also offer practical projects and projects for Bachelor and Master's theses.