News
Disputation Sven Broschinski
CES-Conference in Madrid from 20 until 22 June 2019
"Schwarzmarkt für nützliches Wissen und Nicht-Wissen" on 24 May 2019 at Spielstätte Exerzierhalle
Doppelte Dualisierung — Die Krisen der EU und Populismus als Vehikel
Die EU ist immer in der Krise. Aber die Krisen verändern und verschärfen sich mit ihrer Politisierung und der zunehmenden Bedeutung von Nationalismus und Populismus. Wie eine gelingende europäische (Sozial-)Politik aussehen kann und wie nationalstaatliche Strukturen sich dadurch verändern werden, beschäftigt Prof. Dr. Martin Heidenreich, Europaforscher und Leiter des Jean Monnet Centre für Europeanisation and Transnational Regulations.
Prof. Dr. Martin Heidenreich gives a lecture on "Zwischen Konvergenz und Kooperation. Wirtschaftliche Disparitäten in der EU" auf der Frühjahrs-Tagung der DGS-Sektion Wirtschaftssoziologie zum Thema "Wirtschaft und soziale Ungleichheit". Der Vortrag ist für Donnerstag 9:30 Uhr eingeplant.
European Federalists' Reception on 5 May 2019
Prof. Dr. Martin Heidenreich's lecture: Europa als Sozialprojekt - was muss sich ändern in unserer EU?
Disputation Thomas Jackwerth
Thomas Jackwerth successfully defended his doctoral thesis "The openess of corporate innovation processes. A mechanism-based analysis of innovation projects in the wind energy industry" on 24 April 2019.
Chair: Prof. Dr. Tepe, First Supervisor: Prof. Dr. Heidenreich, Second Supervisor: Prof. Dr. Mattes, Supervisor out of the Related Field: Prof. Dr. Siebenhüner, FK II, Supervisor of Choice: Prof. Dr. Peinke, FK V.
Prof. Dr. Jannika Mattes, Junior Professor at the Institute for Social Sciences, University of Oldenburg, was awarded the 2018 research prize by the Lower Saxony Ministry of Science and Culture. The prize was designed for personalities that make significant contributions through their outstanding scientific work as well as in the field of university development. The jury appreciated Jannika Mattes' research on entrepreneurial innovation strategies and societal change with regard to energy transition.
Visiting fellowship Jenny Preunkert
Visiting fellowship at the Max Planck Sciences Po Center on Coping with Instability in Market Societies in Paris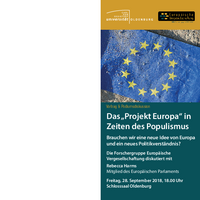 Lecture
Rebecca Harms (Member of the European Parliament)
Panel discussion
Rebecca Harms (Member of the European Parliament)
Prof. Dr. Jan Delhey (Otto-von-Guericke-Universität Magdeburg)
Prof. Dr. Jürgen Gerhards (Freie Universität Berlin)
Prof. Dr. Martin Heidenreich (Carl von Ossietzky Universität Oldenburg)