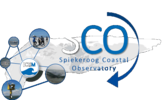 Spiekeroog Coastal Observatory (SCO)
Spiekeroog Coastal Observatory (SCO)
The basis for the Spiekeroog Coastal Observatory (SCO) was established in 2002 as the Time Series Station Spiekeroog. The Coastal Observatory seized preceding research initiatives and grew continuously to the recent observational infrastructure including a multitude of elements and parameters.
Today, the SCO and the conducted research around, improve our understanding of environmental change and anthropogenic impacts on coastal areas along the land-sea interface. The unique characteristic of the SCO can be found within this interdisciplinarity of the element sites operated in the largest tidal flat region worldwide.

In 2010 the SCO became a part of the COSYNA network and was officially registered in 2018 as one site of the German long-term environmental research network (LTER-D).
This page is currently under construction!