Office
Postal adress
Visitors adress
GESUNDT
Obtaining and assessing the nutritional status of older people through the use of a digital tablet app and resulting therapeutic consequences.
The aim of the study
In this study, data on the nutritional status of older people using a tablet app specially developed for senior citizens and a memory log will be compared. The aim is to find out to what extent a technology-based system, i.e. a digital food diary, can measure food and drink consumption in older people.
Why are we doing this?
Often, problems in the area of nutrition are only recognised when relevant restrictions are already present. This does not have to be the case! If the first problems with nutrition are recognised at an early stage, targeted countermeasures can be taken to prevent them from leading to serious consequences (such as malnutrition) for people and their health.
People (70+) wanted!
Participation in a study on nutrition with the help of a tablet-based app possible!
Who can participate?
You...
are at least 70 years old

live independently in your flat or home environment

and are interested in gaining an insight into (your) nutrition?
Then you've come to the right place!
No experience with tablet computers necessary!
Your task
You would participate in the study for four days, mostly from home. Your task is to record all the food and drinks you eat in the food diary app - this takes a few minutes per meal. On the following days, we will compare the data in a short (telephone) conversation - this will take about 5 to a maximum of 20 minutes.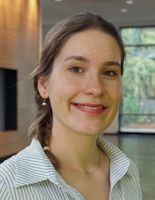 Where do I register?
If you are interested or have questions about participation or need further non-binding information about the "HEALTHY" study, please contact Jette Hinrichsen!
Jette Hinrichsen
Phone: 0441-798 2354
Email: