Winter term 2014/15
Summer School
Computational Molecular Analysis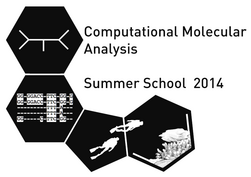 Sept. 29 - Oct. 3,2014,
ICBM, Terramare, Wilhelmshaven More information... Report about the summer school...
Winter term 2014/15
Course programme - winter term 2014/15
The Graduate Schools offers once more a Welcome Workshop for all new PhDs of the faculty V and VI.
Wednesday, 24th of September 2014, 9:30 a.m. – 1:30 p.m. and
Location: Universities guest house, Drögen Hasen Weg 64.


The prelimanary topics of workshop are:
- Defining motivation, wishes and expectations for the PhD
- Introduction to the Graduate School
- Thesis Committee and supervision agreement
- Presentation of the curriculum and an introduction to StudIP
- Identifying your personal competences and requirements


There are still places free. If you are interested in the workshop please contact
Date: 7-8 October 2014
Time: 9 am - 5 pm
Location: To be announced
Registration: Via StudIP
Trainer: Barbara Kosuch
In this workshop you will realize the value of teamwork, decide in which case it is useful to work in teams and learn about strategies and techniques that make teamwork effective.
The practical approach will help you to reflect on your own team competence and to choose appropriate behaviour when leading a team through different development phases.
Focussing on team members' strengths will enable you to handle conflicts constructively.
Objectives:
Realize the value of teamwork
Compare advantages of individual and team work
Get to know strategies and techniques that make teamwork effective
Improve own team competence
Gain team leading skills
Content:
Why do we work in teams?
Individual versus team achievement
How to become a successful team
Decision making process
Team development
Team design
Giving feedback
Handling Conflicts
Leading a team
How to Publish in Peer-Reviewed Journals
Date: 14-16 October 2014
Time: 9am - 5.30pm
Location: A14 1-114
Registration: Via StudIP

Trainer: Dr. Gunther Tress

Why attend this training?
If you are currently preparing or writing a paper for an international peer-reviewed journal this 3-day comprehensive training is ideal for you.
Your particular training benefits are:
to set up a publication strategy to increase publication output
to develop a detailed plan for your current paper in progress
to draft main sections of your manuscript
to know for each section what it needs to include
to know how to identify a suitable journal for your submission
to know how to respond to editors and reviewers
to get answers on your questions regarding paper writing
to have clear instructions for completing your manuscript after training
to submit your manuscript following the concrete suggestions of the training
A second date is sheduled for all students on the waiting list.