Head of division:
Dr. Anna Levke Brütt

+49 (441) 798 - 2633
Junior Research Group For Rehabilitation Science
Department of Health Services Research
Faculty of Medicine and Health Sciences
Carl von Ossietzky Universität Oldenburg
Germany
Postal address:
Carl von Ossietzky Universität Oldenburg
26111 Oldenburg
Germany
Visitor address:
Campus Haarentor, Building V04
Ammerländer Heerstraße 140
26129 Oldenburg
MS-PoV
Multiple Sclerosis – Patient-oriented care in Lower Saxony
Scientific sub-project leader:
PD Dr. Anna Levke Brütt
Prof. Dr. Annett Thiele
With the participation of Prof. Dr. Anne Rahn
Research assistants:
Dyon Hoekstra
Elise-Marie Dilger
Duration:
04/2020 – 03/2023
Project description:
More than 240,000 people in Germany suffer from multiple sclerosis making it the most frequent inflammatory illness of the central nervous system. A wide range of treatment options are offered on an inpatient, outpatient and day patient basis. However, it is not systematically analysed which of these treatments can be used and are used. Furthermore, there is little known about the provision of assistive devices such as walking aids and wheelchairs although they can increase the functionality and thus the life quality and participation of people with multiple sclerosis.
The goal of this study is to analyse the current situation of health services for people with multiple sclerosis in Lower Saxony. Differences especially between urban and rural areas but also between different forms of multiple sclerosis should be identified. Also, relationships with patient outcomes such as health related quality of life will be studied. The research team from the University of Oldenburg will have their main focus on the processes of the provision of assistive devices.
By conducting qualitative and quantitative interviews, the needs and the perspective of people with multiple sclerosis will be integrated into the research project. In focus groups the health services will be analysed from the point of view of people with multiple sclerosis and other parties involved in it such as physicians and physiotherapists. The collected data will be linked to data from a health ensurance company and to data from the MS registry. On the basis of these results people with multiple sclerosis and other parties involved will then develop recommendations for a better provision of assistive devices during a future workshop.
Consortium partners:
Hannover Medical School, Institute for Epidemiology, Social Medicine and Healthcare Systems Research
German Multiple Sclerosis Society (DMSG), Lower Saxony
MS Forschungs- und Projektentwicklungs- gGmbH
AOK Lower Saxony, health services research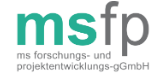 | | |
| --- | --- |
| Funded by the Innovation Fund for Health Services Research of the Federal Joint Committee | |