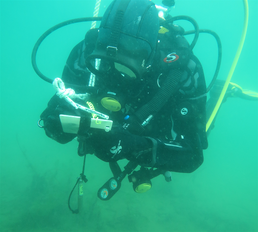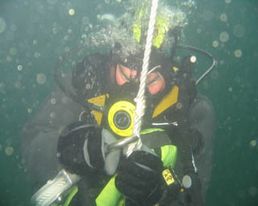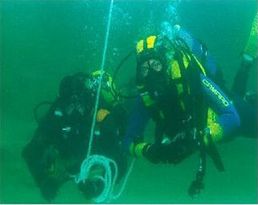 Scientific Diving

BACKGROUND
In Germany, underwater operations for scientific purposes have to be carried out according to the rules for scientific diving. These ensure high security standards and demand that only certified scientific divers may be employed. There are six training centres certified by the Board of Examiners for Scientific Divers of the technical committee for civil engineering ("Prüfungskommission für Forschungstaucher des Fachausschusses Tiefbau"). In addition to the ICBM, the sole training site in Lower Saxony, the universities of Rostock, Kiel, Munich and Constance as well as the AWI at Helgoland offer this intensive training.
Advantages
The training provides scientists of various disciplines with the necessary skills to operate under water and work on their specific research questions. The work may include:
Targeted sampling of organisms, water, sediment and other material;
Deploying and maintaining experimental devices;
Mapping and visual documentation.
TRAINING IN OLDENBURG
The ICBM has been official training site since 1999. The didactic approach of the training as scientific diver is interdisciplinary. The yearlong course includes education in physics, biology, medicine and technology as well as civic education and emphasises the responsibility for oneself and others. It provides a useful addition to the scientific qualification in aquatic environmental research. To date, 210 students and scientists have been successfully trained. Qualified staff and modern equipment ensure the high standard of the training in Oldenburg. Each year, about twelve persons participate in the course. The scientific diving group is also involved in various research projects and operates during field trips.
The scientific diving group of the ICBM is located at the ICBM-Terramare in Wilhelmshaven. The training, however, takes mainly place in Oldenburg, the open water dives were conducted in different inshore waters and in the Little Belt, Baltic Sea, Denmark.
Scientific diving courses:
2019-2020:
29.03.-29.04.2021: Continuation of the final training with final examination
2020-2021:
20.10.2020-28.02.2021: Swimming and snorkeling training with a final exam
01.-05.03.2021 Theoretical seminar (Online)
08.-26.03.2021: Block training on diving equipment in the university pool
03.05.-16.07.2021: semester-accompanying training on diving equipment in the university pool
14.-18.06.2021: Block training with diving equipment in open water
CONTACT
Dipl. Biol. Frank Donat
Phone: +49-(0)441-798-3457
Location: W2 3 - 353 (Standort Wechloy)
E-Mail:
FURTHER INFORMATION