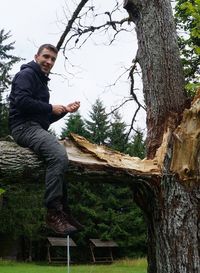 Room: W4 0-003
Phone: +49 (0)441 798-3647
Email: vincent.hoeber@uol.de
Vincent Hoeber
ecological relevance of tree related microhabitats

accumulation and decomposition of arboreal soil

accidental epiphytes in an ecological and evolutionary context

plant ecophysiology and functional processes in forest ecosystems

effects of global change on biodiversity and intra- and interspecific interactions
During my PhD I investigated vascular epiphytes in temperate climates regarding the following questions:
Which functional traits support epiphytic occurrence of particular individuals of a species and particular species within a community?

How do biotic and abiotic factors influence accidental epiphytes?
Hoeber V & Zotz G. 2022. Accidental epiphytes: Ecological insights and evolutionary implications. Ecological Monographs, e1527.
Hoeber V & Zotz G. 2021. Not so stressful after all: Epiphytic individuals of accidental epiphytes experience more favourable abiotic conditions than terrestrial conspecifics. Forest Ecology and Management, 479: 118529.
Hoeber V, Klinghardt M, Zotz G. 2020. Drought resistance does not explain epiphytic abundance of accidental epiphytes. Plant Ecology & Diversity, 13: 175-187.
Hoeber V, Weichgrebe T & Zotz G. 2019. Accidental epiphytism in the Harz Mountains, Central Europe. Journal of Vegetation Science, 4: 765-775.
since 11/2016
Research assistant, Carl von Ossietzky University of Oldenburg
01/2022
PhD, Carl von Ossietzky University of Oldenburg
Thesis title: "Epiphytic growth of vascular plants in temperate forests – an ecological perspective"
2014-2016
M.Sc. Biodiversity and Ecology, University of Greifswald
external Master thesis at IRNAS (Seville, Spain) about the effects of soil-borne

pathogens on the regeneration of Quercus suber

2010 – 2013
B.Sc. Biology, Martin Luther University of Halle-Wittenberg
Bachelor thesis about physiological reactions of Fagus sylvatica on reduced

precipitations