Organizers
RTG 2226 Coordination

Welcome to the 4th Oldenburg Symposium on Chemical Bond Activation!
March 7th, 2022 // Online // 9 - 17 h CET
More information coming soon
---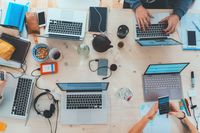 The activation of chemical bonds is a highly discussed research topic that carries large economic potential and provides sustainable access to chemical products. The topic connects different disciplines like organic, inorganic, physical and theoretical chemistry as well as industrial and biochemistry. To understand the behavior of such reactions, it is important to consider a wide range of aspects and exchange knowledge with experts on the relevant research fields.
In order to provide a platform for scientific communication and networking, the members of the Research Training Group 2226 invite you to participate in the 4th Oldenburg Symposium on Chemical Bond Activation.
---
Prof. Dr. Barbara Lechner
Professor for Functional Nanomaterials, Technical University of Munich, Germany
Dr. Manfred Manßen
Postdoc, Anwander Group, Eberhard Karls University Tübingen, Germany
Dr. Tristan Wagner
Group Leader, Microbial Metabolism Research Group, Max Planck Institute for Marine Microbiology, Bremen, Germany
Prof. Dr. Sven Schneider
Professor for Inorganic Chemistry, Georg August University Göttingen, Germany
---
Abstracts and registration
For oral contributions, please register until 7.2.2022.
The closing date for registration of posters is 21.2.2022.
Abstracts should be submitted via mail to until 21.2.2022
Registration for participation only will be possible until 7.3.2022.
Guidelines for Contributions
Poster guidelines:
The poster session will take place online. The posters will be presented on a platform which includes a separate video conference room for each individual poster to enable discussion with the authors.
Posters should be in English.
Presentation guidelines:
There will be talks by four invited speakers. Furthermore, participants can apply for oral contributions to the symposium.
Talks by invited speakers should be 30 minutes long, with an additional 15 minutes for discussion.
Oral contributions should be 15 minutes long, with an additional 5 minutes for discussion.
All presentations should be held in English.
Abstract guidelines:
Only Word documents will be accepted, please use the following template.
Participation in the symposium is free of charge.