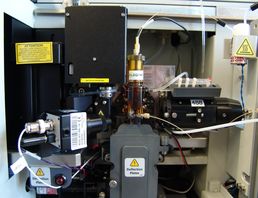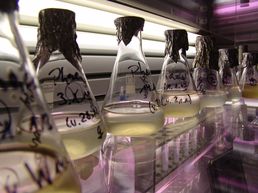 Methods / Instruments
Sampling (on board), filtration, fixation and storage of samples.

Classical chemical methods for the analysis of inorganic nutrients and elements.
High sensitivity methods for substrate analyses (HPLC, CHN, TOC analysis).
Fractionation of molecular size classes of DOM and specific dissolved substrates by ultrafiltration.
Methods to study the occurrence of aggregates in situ and their formation experimentally (under water photography, rolling tanks).
Micro- and mesocosms studies.
Microscopy and image analysis.
Flow cytometry and cell sorting.
Classical microbiological methods to isolate, culture and physiologically characterize bacteria.
Molecular methods to identify bacteria and the composition of microbial communities (Denaturing gradient gel electrophoresis of PCR-amplified 16S rRNA fragments, fluorescence in situ hybridization, RT-PCR, quantitative real time PCR, cloning, sequencing of 16S rDNA genes, genomics, metagenomics).
Light and epifluorescence microscopes

HPLC (amino acid, monosaccharide analysis)

CHN analysis

Ultrafiltration

Thermocycler

Real Time

Electrophoresis (DGGE, agarose)

Gel documentation

DNA sequencer

Flow cytometer (FACS ARIAIII and C6)

Incubation of viruses, bacteria and algal species

Rolling tanks for the experimental simulation of tidal cycles

Photographic under water documentation and image analysis of suspended aggregates