Preparatory German courses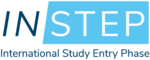 Applicants
Welcome to the language center!
We are pleased that you would like to participate in the INSTEP study preparation programme at the Carl von Ossietzky University of Oldenburg.
As an applicant to the University of Oldenburg, you can attend preparatory German courses at the Language Centre, which will take you from B1 to C1 level (according to the CEFR) within two semesters and prepare you for the DSH examination (Deutsche Sprachprüfung für den Hochschulzugang). The DSH exam serves as official proof of your German language skills.
In order to be admitted to the university preparation programme, you must demonstrate initial B1 proficiency in the German proficiency test. The next proficiency test will take place on Monday, 11.03.2024 from 10:00-12:00. Participation is compulsory.
Please register via the link. You will then receive further information by e-mail. It is very important that you give us an e-mail address that you use regularly and through which we can reach you quickly.
You can register until Wednesday, 06.03.2024.
If you wish to cancel your registration, please send us an email to .