CareFall
Cardiorespiratory fitness - an
Influencing factor for fall risk and gait safety in older people?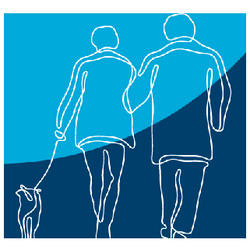 Impaired static balance is a risk factor for falls in older people. Cross-sectional studies suggest a relationship between static balance and individual aerobic effort. In contrast, the influence of aerobic exercise on dynamic balance has not yet been investigated and the influence of endurance capacity on the risk of falls, or the rate of falls and dynamic balance, is currently not clear.
In the CareFall study, the potential relationship between individual endurance capacity and fall risk, measured by static and dynamic balance, is investigated in an explorative approach.
Endurance capacity is investigated by analysing cardiovascular regulation in the moderate exercise range. Dynamic balance will be tested using a perturbation treadmill, which provokes standardised disturbances in gait, before and after short periods of walking, and compared between a group of individuals with a history of falls and a group without a history of falls.
Potentially, new intervention strategies can be developed on the basis of the CareFall project, as well as diagnostic possibilities for use in everyday life. The study will be conducted in accordance with the current hygiene regulations.
All places for this study are currently occupied (as of 15.03.2023).