Lab Facilities
The acoustics group operates a large anechoic chamber (renovated in 2021/2022) with absorbing wegdes of 1.5 m (nominal lower limiting frequency of 50 Hz) and background noise levels well below the absolute threshold of hearing.
The whole room is placed inside a separate building and mounted on metal springs to reduce the impact of vibration for frequencies above 5 Hz.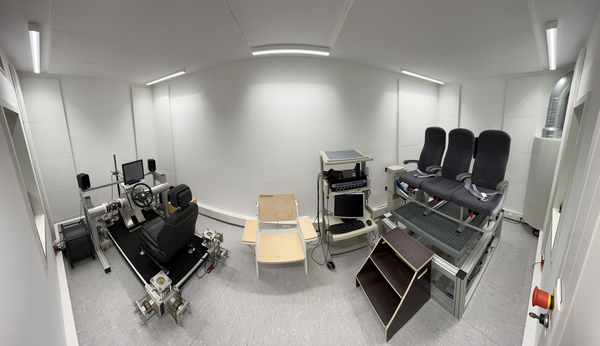 Human perception of whole body vibrations is investigated in this laboratory. Basic measurements, like perception thresholds and just noticeable differences, and the impact on the comfort are evaluated.
The depicted car environment simulator is used to reproduce the noise and vibration occurring in vehicles which are rated by subjects.

Read more...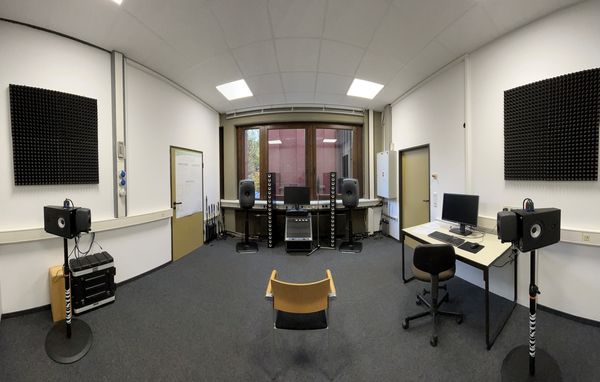 The spatial reproduction of sound is investigated in two loudspeaker labs. A smaller room with 2+2 sorround setup and one larger room with an ambisonics setup.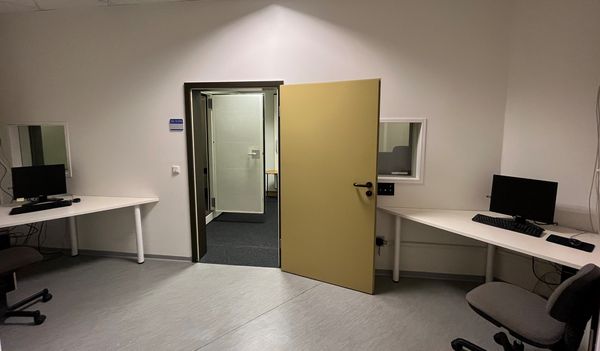 The acoustics group operates three soundproof cabins that are routinely used for headphone-based listening tests and the editing of sound signals.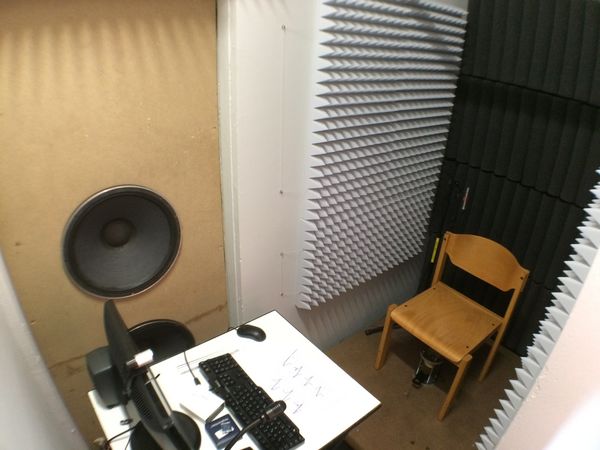 A small room is used as a pressure chamber to reproduce low frequency sound down to a few Hertz.
Multi-channel data aquisition
Besides multiple state-of-the-art audio interfaces also mobile multichannel measurement systems for sound and vibration data are available, which comply with certifications for use in aircraft.

Read more...
A B&K 4206 impedance tube together with the PULSE front-end and software is available to measure the surface impedance, reflection and absorption coefficient from 50 - 6400 Hz in accordance with ISO 10534-2. An 4-microphone extension is available to furthermore determine the transmission loss and characteristic impedance/ propagation constant of acoustical materials with the two load method.
The wind tunnel of Oldenburg University is a so called "acoustic wind tunnel" after the Göttingen principle.
This principle gives a flow with an extraordinary low amount of remaining turbulence, and thus an extraordinary low sound level of the flow.
The working section has the dimensions 0.8 x 1.0 x 1.8 m3. The maximum windspeed is approx. 50 m/s.