Voluntary Scientific Year
Voluntary Scientific Year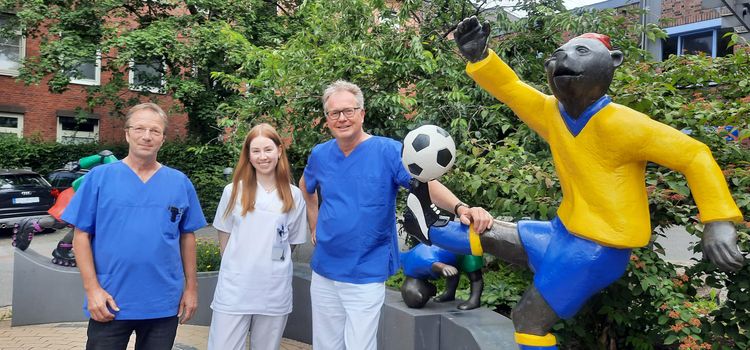 Young people are given the opportunity to learn about research, gain their first professional experience and gain insight into university life during the "Voluntary Scientific Year" (Freiwilliges Wissenschaftliches Jahr, FWJ) at the University of Oldenburg. In this way, the FWJ introduces young people to science at an early stage and aims to inspire enthusiasm for research. In order to make it easier for potential first-time academics to gain access to higher education, the UMO funds positions within the FWJ programme.
Managing Director of the Clinic for Paediatrics and Adolescent Medicine
Director of the Department of Neonatology, Paediatric Intensive Care Medicine, Paediatric Cardiology, Paediatric Pneumology and Allergology
Specialist in paediatric and adolescent medicine with an additional qualification in neonatology
Head of the Department of Paediatric Pneumology and Allergology
Specialist in paediatrics with additional qualifications in paediatric pulmonology and allergology
" We enjoy introducing young people to science and I think that we have a versatile range to offer in Oldenburg, from scientific work in studies or register surveys to the integration into everyday clinical practice - applied science, so to speak."
Volunteer in Pediatrics and Adolescent Medicine
" During my voluntary year, I had the opportunity to familiarise myself with many clinical studies and was given the chance to assist in these studies. This gave me a great insight into patient-oriented research that takes place in our hospital. And I had a lot of fun experiencing scientific work in such a hands-on setting."