Info & Help
Some help to reach our location
"AVZ" (building A1 - A4)
bus stop "Universität / Artillerieweg" - arrival from city / train station
(free) parking garage beneath library and Mensa
(free) parking garage (enter via "Uhlhornsweg" or "Haarenfeld")
(Colors of buildings in the map mimic the "real" colors and do not have any additional meaning)
You will find our rooms at the main complex of Carl von Ossietzky Universität Oldenburg called "Campus Haarentor".
Go to the second floor of the so called "AVZ" (building A1 - A4). From the main staircase keep straight on for the rooms with numbers A2 2-xxx in the yellow corridor and turn left for the rooms with numbers A3 2-xxx in the green corridor.
For a description of how to get to OFFIS please have a look at their website.
Driving along motorway A28 from motorway interchange "Oldenburg Ost (East)" in direction "Emden/Leer" take exit "Haarentor". At the first crossing turn right (direction "Universität, Bad Zwischenahn"). Then at the first two crossings drive ahead and the next one turn left ("Uhlhornsweg").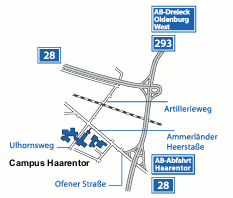 Driving the motorway A28 from "Emden/Leer" in direction of "Bremen" leave at exit "Haarentor". At the first crossing head right (direction "Universität, Bad Zwischenahn"). Then at the next crossing drive ahead and then go left ("Uhlhornsweg").
Take the train to Oldenburg main station ("Oldenburg(Oldb) Hbf"). Leave the station through the main entrance (south side). There from bus stop "Hauptbahnhof Süd" you should take one of the following bus lines:
Linie 306 "Universität"
Linie 310 "Wehnen/Famila-Center"
Regionalbus 350 "Westerstede"
Leave at bus stop "Universität/Artillerieweg", then cross the street "Ammerländer Heerstraße". (You can also choose this bus stop directly when searching for a connection, or choose bus stop "Universität/Uhlhornsweg".)
The nearest international airport is "Airport Bremen" (BRE) (distance approx. 50km). From there you can come to Oldenburg by train, or you can book the "Luftibus", a Bus Shuttle Service between Oldenburg and Airport Bremen, at your travel agency or directly under the telephone No. +49 441 - 81 11 4.
Other airports: "Hannover" (HAJ) 160km, "Hamburg" (HAM) 175km, "Münster/Osnabrück" (FMO) 140km
All pages at this server are divided in three main parts. There is the navigation-bar in the left column and the main data-sheet in the middle column of the page.
For some pages there is an overview of the topics on the current page and additional information in the column on the right. This overview enables direct access to the topics.
Layout and Service of this Site
The layout of this pages was adjusted to meet the corporate identity of the university. Therefore the Internetkoordinator of the university is responsible for it.
The technical implementation was done using the content management system TYPO3. Service and updates are done by the staff.