Summer school ended with symposium and barbecue on Aug 23., 2013.
Summer school has started on Aug. 10, 2013: newspaper article in WZ.

Travel info: On Sat, Aug 10 (morning and afternoon), trains between OL and WHV operate as scheduled - no shuttle bus needed.
1 Publication added
Programme and List of participants up-dated (Aug 1, 2003)
Password protected area added. Info letter and questionnaire has been sent out, please returm asap.
The is selection procedure is completed and all places filled. ICBM thanks all applicants. We had received a large number of applications and had a difficult choice to make. We regret that we could not accept more persons.
This page is will be updated continuously. Please come back and visit this page again for new information.
Important Dates:
Dead line for application:
April 14, 2013
Applications closed
Exact travel dates (for insurances):
until July 5, 2013
Start of summer school:
August 10, 2013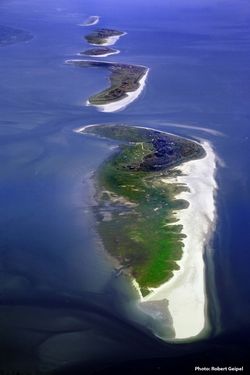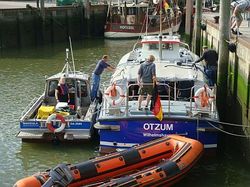 Sponsored by German Academic Exchange Service (DAAD) from funds of the Federal Foreign Office
---

ICBM Summer School 2013
ICBM Summer School 2013 - Biogeochemistry of tidal flats and beaches of the southern North Sea coast (Wadden Sea)
August 10 to 24, 2013
The summer school ended with a symposium held on Fri, Aug. 23., 2013 at ICBM in Oldenburg.
Front row: Gülüm Albut (Turkey), Piotr Starnawski (Denmark), Emily Gray (USA), Anna Friedrichs (ICBM), Nicole Waite (USA), Lauren Kipp (USA), Linda Jørgensen (Denmark), Raquel Sánchez de Pedro Crespo (Spain), Jennifer Ann Taylor (Australia), Maren Bornemann (Germany), Simone Sauer (Norway)
Back row: Krešimir Markulin (Croatia), Bert Engelen (ICBM), Iris Pit (Netherlands), Gabriel Singer (Austria), Thorsten Dittmar (ICBM), Birte Junge (ICBM), Anne Roeper (Netherlands), Jürgen Köster (ICBM), Mathilde Couturier (Canada), Aubin Thibault (France)
From August 10 to 24, 2013 the Institute for Chemistry and Biology of the Marine Environment (ICBM, University of Oldenburg) will organise a summer school on the "Biogeochemistry of tidal flats and beaches of the southern North Sea coast (Wadden Sea)". The summer school will be held at the Wittbülten Environmental Center on the island of Spiekeroog, and at ICBM facilities in Wilhelmshaven and Oldenburg.
Background
Coastal ecosystems are of great global importance as they link land and oceans, strongly contribute to net primary productivity and are sites of intense carbon remineralisation and burial. The islands and intertidal flats of the southern North Sea (Wadden Sea) are the largest continuous tidal system worldwide. Due to its outstanding international importance and its unique nature, the Wadden Sea is listed as UNESCO World Heritage since 2009.
The back barrier tidal area of the island of Spiekeroog has been the subject of the interdisciplinary DFG Research Group on BioGeoChemistry of Tidal Flats (2001-2010) and is one of the best studied tidal areas worldwide. Based on this experiences the participants of the summer school will benefit from the multidisciplinary approach of the ICBM and its scientists.
The course will provide a fundamental understanding of important processes in tidal flats and beaches, combining microbiology, geochemistry and sedimentology. The scientific programme comprises excursions, sampling, lab work using up-to-date analytical instrumentation, and lectures concerning different topics of coastal research. A special focus will be on biogeochemical cycling of organic matter, nutrients and metals.
Topics
The main topics of the summerschool are:
Introduction to the northwest German coast and the unique back-barrier tidal flat system of the southern North Sea
Pore water and sediments
Molecular and optical analysis of dissolved organic matter
Trace metals and nutrient dynamics
Microbial communities and activities within sediments
Statistical interpretation of complex data sets
Excursions

by research boats, car, and on foot

(Spiekeroog, tidal flats, ecology, landscape and settling history)

During the summer school, participants will
gain detailed knowledge of biogeochemical processes underlying the functioning of coastal ecosystems,

improve their understanding of interacting chemical, biological and physical (geological) processes,

receive training in sampling techniques of pore water and sediments for geochemical and microbiological analyses,
gain practical experience in geochemical and microbiological analysis using advanced instrumentation,
learn to interpret and integrate complex data sets from different disciplines,
improve their ability to plan and conduct interdisciplinary research,
gain a better understanding of the interaction of landscape development, settlement history, and culture,
get insight into interdisciplinary research at ICBM, higher education at the University of Oldenburg, and of the German university system in general.