Jessica Ying Ling Tay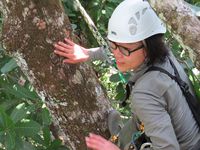 Room: W4 0-050
Phone: +49 (0)441 798-3343
Email: jessica.tay.ying.ling@uol.de
Jessica Ying Ling Tay
Research Interests / Project
Biomechanical properties of plants
Plant responses to mechanical stresses
My PhD is part of the project Epiphytes and wind in a changing world. I am particularly interested in studying the biomechanical responses of epiphytes in the face of wind; how different morphology and flexibility influences the streamlining effects. I will also quantify the innate roots tensile strength and attachment properties, to understand the mechanism of epiphytes' attachment to their substrate.

Tay JYL, Erfmeier, A & Kalwij, JM. 2019. Reaching new heights: can drones replace current methods to study plant population dynamics? Plant Ecology 219: 1139-1150.
Tay JYL, Zotz G, Puczylowski J & Einzmann H. 2021. Go with the flow: The extent of drag reduction as epiphytic bromeliads reorient in wind. PLoS ONE 16: e0252790.
Tay J, Zotz G, Gorb SN & Einzmann HJR. 2021. Getting a grip on the adhesion mechanism of epiphytic orchids – evidence from histology and Cryo-SEM. Frontiers in Forests and Global Change – Forest Ecophysiology 4: 764357.
Einzmann HJR, Zotz G & Tay JYL. 2022. What happens to epiphytic bromeliads in a windy spot? Journal of Tropical Ecology 38: 158 - 163.
Tay J, Kovalev A, Zotz G, Einzmann HJR & Gorb SN. 2022. Holding on or falling off: the attachment mechanism of epiphytic Anthurium obtusum (Engl.) Grayum changes with substrate roughness. American Journal of Botany 109: 874-886.
Tay J, Zotz G & Einzmann HJR. 2022. Thigmomorphogenic responses of epiphytic bromeliads to mechanically-induced stress. Plant Ecology 223: 1-11. doi.org/10.1007/s11258-021-01186-6
| | | |
| --- | --- | --- |
| Since 02/2018 | | Doctoral student, University of Oldenburg |
| 2015 – 2017 | | M.Sc., Kiel University. International Master in Applied Ecology (IMAE, ERASMUS MUNDUS programme) |
| 2011 – 2015 | | B.Sc., National University of Singapore |