Dates and Events
The student body organizes several events as the orientation week or the career day.
If you have any questions regarding events organized by the Student Body Neuroscience please do not hesitate to contact us:
Orientation Week Winter Semester 2022/23
We are happy to welcome new students for the winter term 2022/23. All new students are very welcomed to attend to the orientation week taking place before the new semester starts. This is the schedule of this year's orientation week:
The orientation week will take place in person. Students who can't attend the orientation week are welcome to join the "Online welcome and game afternoon" on tuesday at 4 pm. We are excited to see you soon!
Every first thursday in the month, student body neuroscience organizes a bar night for all neuroscience students and alumni! Next bar night will be announced via mail.
Neuroscience Career Day 2022
Career day 2022 was a blast! We met – finally – on campus again to listen to several interesting talks from people in the field of neuroscience and psychology. The speakers came from academia, industry and science communication. They told us about their ups and downs in their career and gave us insights what we can achieve with a master degree in neuroscience. And at our poster session numerous neuroscience students presented their ongoing research projects to practise their skills before going on international science conferences. Visit us on our career day website for more information!
Orientation Week Winter Semester 2021/22
For the winter semester 2021/22 student body neuroscience organized an orientation week for new students. It took place from October 11th to the 15th.
Neuroscience Career Day 2021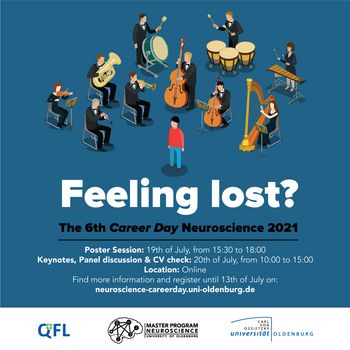 The 6th Neuroscience Career Day 2021 was a huge success! We met in the virtual Gather Town - a web-conferencing software in which the students designed an avatar and walked through the virtual Career Day venue. Students were able to visit the Lecture Hall, the Poster Session Room, the CV Check Area - or have a little chat with each other on the hallway.
At the student's poster session students presented their research and got feedback from peers. And at career day four different speakers told about their individual career path in the field of neuroscience and discussed pros and cons of doing a PhD.
Find further information on the Career Day Website!
Orientation Day Summer Semester 2021
For all current students an online orientation day was organized, where the students gathered information about the lectures that can be taken in the summer term 2021. The teachers shortly presented the contents of their lectures and were available to answer questions.
Orientation Week Winter Semester 2020/21
Workshop about Visual Communication
The workshop was about how to communicate your scientific findings visually efficiently and in a professional way. We all are aware of how a neat figure, a well-designed poster, and a nicely structured presentation can change the way people interact with our research. Student body neuroscience presented the first and probably the last workshop on "Visual Communication", in which students had the chance to learn the fundamentals of graphic design and creative thinking. In addition, it was worked on specific research question of students during the brainstorming training and the posters/presentations/figures at the design training.
Neuroscience Career Day 2018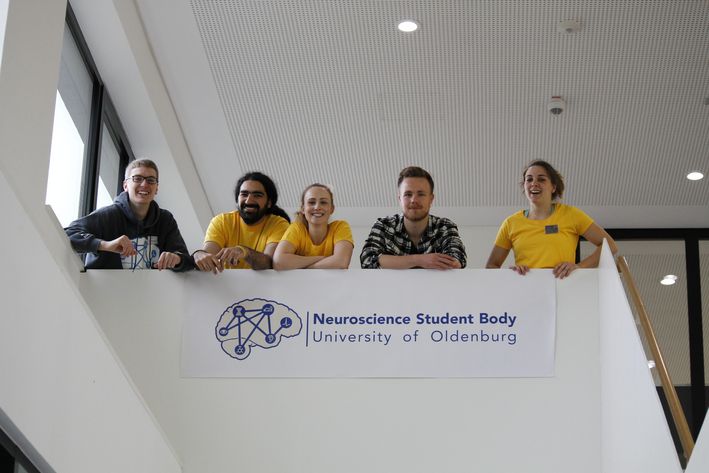 The Neuroscience Career Day was organized by the Neuroscience Student Body, students from the study program "Neurocognitive Psychology" and Ph.D. students of the program "Neurosensory Science and Systems". We invited all interested students from the broad field of Neuroscience to witness and weigh all the diverse options we have at your disposal as a young scientist. Whether in academia or industry, it is never an easy choice. At the Career Day Neuroscience, we gave guidance and ideas how the step into the future career could look like.We invited external and internal speaker who gave insights into their career path. After the talks, students had the chance to have discussions in small groups. Students also had the opportunity to present a poster about their ongoing research. We hope that some of you gained new ideas for future plans and feel inspired to also look aside from the straight path of academia.
Find more information on the website of the Career Day Neuroscience!
Neuroscience Career Day 2017
| | |
| --- | --- |
| The Career Day 2017 on March 31st was a great day! A career in science management or in academia? Working in a company or the University? Do I have to choose between family or career? Or a PhD maybe...? All these question found their place during talks, the poster session, coffee break and personal individual sessions with our speakers. Our own little conference included great posters, animated conversations and enthusiastic young researchers. The organization team would like to thank all invited speakers for the insights into their personal career paths and motivating talks. We hope that the Career Day helped all participating students to get a better idea of what their best way into a successful career will look! | |
You can find more information about the past and the future Career Day here.
| | |
| --- | --- |
| | |
| | |