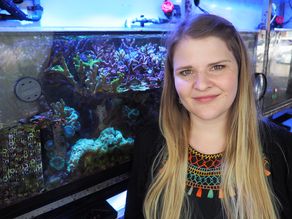 Dr. Mareen Möller
Tel.: +49-(0)4421-944-179
Fax: +49-(0)4421-944-140
E-Mail:
Location:
ICBM Terramare
Schleusenstraße 1
26382 Wilhelmshaven
Germany
Dr. Mareen Moeller
Interest
Coral reefs are threatened by human actions and since they are ecologically and economically important for us it is crucial to protect them. However, as much as we have learnt about adult corals during the last years we still know very little about juvenile corals.
Many benthic marine invertebrates, including corals, disperse as plankton before settlement and metamorphosis. Finding a suitable habitat is crucial for sessile marine invertebrates. The ability of larvae to detect habitat-specific cues has been recognized in a range of phyla, but until recently, only a few studies identified the chemical structure of compounds involved in larval settlement and metamorphosis.
We still know very little about the ecology of juvenile corals even though we have a good idea that it differs from adult corals in terms of sensitivity to stressors and adaptability.
Qualifications
Coral ecology : experimental work with juvenile and adult corals and coral larvae, mass coral reproduction (spawners and brooders), cultivation of juvenile and adult corals, sedimentation and temperature stress experiment design, coral settlement
Microbiology: isolation and cultivation of bacteria from environmental samples
Molecular Biology: DNA Extraction, PCR, Sequence analysis
Scientific diving certification: AAUS
CV
March 2019: Doktoral degree. Thesis:

"Early life stages of corals

and their relevance for the future of coral reefs". Supervisor: Prof. Dr. Peter Schupp
2013 Master of Science in Environmental Sciences, thesis title : "Effects of sedimentation on early life stages of the scleractinian coral Acropora surculosa". Supervisor: Prof. Dr. Peter Schupp
2010 Bachelor of Science in Biology, thesis title: Effect of differenct bacterial strains on settlement behavior of the scleractinian Leptastrea purpurea, University of Würzburg Supervisor: Prof. Dr. Ute Hentschell