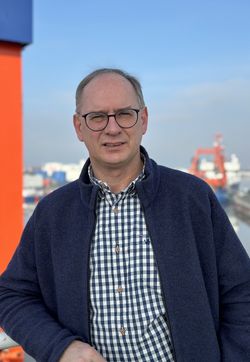 Dr. Thomas Badewien
(Deputy of the Professorship Marine Sensor Systems)
Advancing marine science through dedication to excellence in research, engineering, and education, utilizing and developing innovative and sustainable sensor technologies.

Marine Sensor Systems
The environmental conditions in the sea change constantly, both in the short- and long-term. In order to detect these processes, the research group Marine Sensor Systems explores and develops innovative methods and sensors that can be operated on-site at sea. The scientists identify key variables of coastal regions and shelf seas and integrate them into observation systems.
Design innovative and affordable sensors technologies for sustainable interdisciplinary monitoring of the natural environment.

Automate sensors for easy use as well as integration on in-water, fixed, ship based and airborne platforms.
Observe biogeochemical and physical Essential Ocean Variables in all aquatic environments from open ocean to fjords, shelf seas and estuarine systems
standard oceanographic variables (salinity, temperature, currents)

ocean

colour

(inherent, apparent optical properties)

plastic litter (virgin, washed ashore and ocean harvested of all sizes)

imaging of planktonic organisms

nutrients, dissolved organic matter (

FDOM

,

CDOM

), algae, oxygen
The members of the research group Marine Sensor Systems teach courses in various study programmes at the University of Oldenburg and the Jade University of Applied Sciences, such as the Master programmes "Marine Sensors" and "Marine Environmental Sciences" as well as the Bachelor programmes "Marine Technology" and "Environmental Sciences".
Please follow the links to the study courses for information on content, admission requirements and credits. You can register via the e-learning portal Stud.IP of the University.