Ricoh MFPs - Set up Linux PC to print to Ricoh MFP
Ricoh MFPs - Set up Linux PC to print to Ricoh MFP
Set up Linux PC to print to Ricoh multifunction device
The following instructions work for all Linux computers on which Cups is installed. Cups is pre-installed in many Linux distributions. In these instructions, it is explained using a CentOS Linux Workstation 8 as an example. First, log on to your machine normally and enter 'http://127.0.0.1:631' in your browser. You should now be shown the following view.
In this view you then need to click on 'Add Printers and Classes'. Have the local user data for root ready.
After successful authorisation, the following window should open, in which you must then select the option "LDP/LPR host or printer" and confirm with "Next".
Once you have confirmed with "next", then paste the link to the printer. The link is: lpd://abcd1234@ricohmfg01.w2kroot.uni-oldenburg.de/followme_macos , where you must exchange "abcd1234" with your identifier so that the print job can be assigned to you.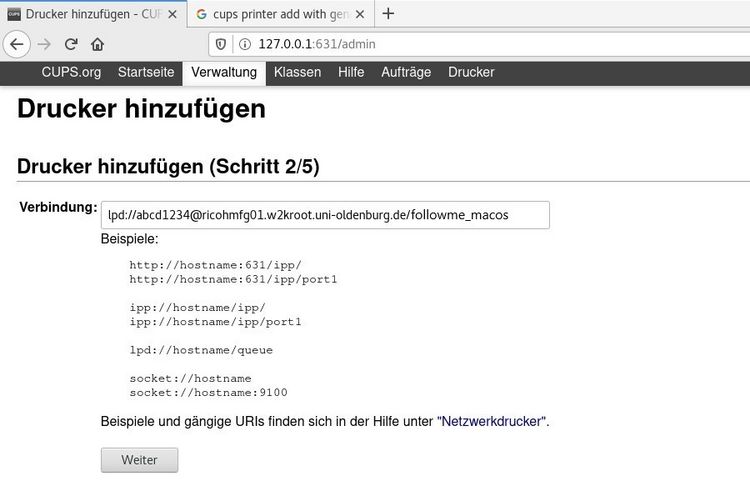 Once you have confirmed with "Next", you must give the printer a name (you can select this yourself) so that it can be found later in the system. The fields "Description" and "Location" can optionally be left blank.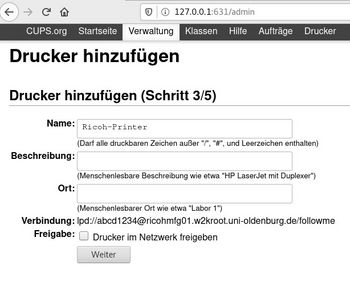 The penultimate step is to select the printer driver. Select "Generic" for the manufacturer and "Generic PostScript Printer (en)" for the model and confirm with "Next".
The last step is to set the default settings. You can confirm these without making any changes. Now click on "Set default settings" and the printer is set up and you can close the browser window.