PIZ Care Innovation Center
PIZ Care Innovation Center
PIZ - Care Innovation Center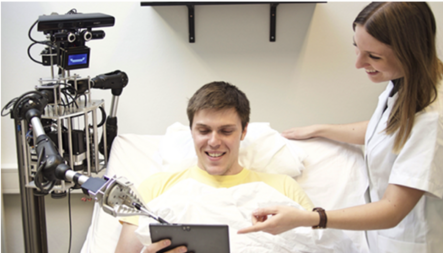 Ensuring care is one of the biggest challenges of the future. In the area of ​​long-term care alone, the number of people requiring care within the meaning of SGB XI will rise by 70% from 2.6 million in 2015 to 4.6 million in 2055. The use of new technology is a promising way to counteract the otherwise expected care needs with innovative approaches of human-technology interaction. When it comes to ensuring high-quality, needs-based care, the development and use of innovative solutions for human-technology interaction are of central importance. They can not only help in the various care settings - from long-term care, home care and hospital care to ensure the care at all, but at the same time to maintain the independence, self-determination and quality of life of the needy, nurses and nurses as well as caring relatives to relieve and thus open up more space for interpersonal care in nursing.
The aim of this project is to build and consolidate a Competence Center for Innovation in Nursing (PIZ), which develops technical innovations to support nursing, tests products on the market and from research projects, as well as results in real laboratories for the professional public and for further education and training. On the one hand, the Nursing Innovation Center (PIZ) embeds the Nursing Practice Centers (PPZs) and thus renowned care facilities, while on the other hand, it maintains a close exchange with the technology and service providers in the nursing sector.
On the basis of the results of the requirements analysis, which are obtained in advance, technological solutions are sought to relieve the burden on nurses and people with care and support needs. On the one hand, research and development are carried out in this context; on the other hand, products already established on the market are viewed, recorded and expanded if they meet the identified requirements. At the same time, a constant exchange with experts from the field takes place during the development and product acquisition, so that the benefits of the developments can be validated early. The basic requirement is the networkability of the technological developments, so that an intelligent interaction of the technology can additionally support the users.
The project focuses on four different care scenarios (home care, in-patient care, intensive care, nursing care center). For these scenarios, technologies from the fields of monitoring and assessment, communication, interactive day-to-day companions, assistive robot systems as well as virtual and augmented reality are deliberately considered. All developments can be demonstrated and explained in our real laboratories.
Partners
OFFIS e.V., Bereich Gesundheit (Koordinator)
Universität Bremen
Universität Oldenburg, Medical Education
Universität Oldenburg, Sozialwissenschaftliche Theorien
Hanse Institut Oldenburg Bildung und Gesundheit GmbH
Funding
The project is funded by the Federal Ministry of Education and Research (06/17 – 05/22)
Own Sources (AMT)