ITAGAP
Integrated technology and work process development for health in ambulant care
The goal of the cooperated project ITAGAP is the development of integrated technology and use case driven concepts for ambulant care. The interdisciplinary consortium aims on achieving suitable human resource management, while taking all sides ins concern. In combination with sensor and actor systems and house automation solutions are evaluated. Feedback is given by a real care institution and experts in nursing. A care, supported by technology helps to fulfill the challenging tasks of the nurses. If their workflow can be improved, the quality of life of the patients will be enhanced too.
In the project, the group Assistive Systems and Medical Technologies provides the analysis and measurement environment. It is possible to track movement and gestures of nurses to give them feedback about their everyday work. The physical challenges for the nurses have more priority than the optimization of their movement paths and the order of their activities. In the long term, their work situation should be improved.
First, the status quo is analyzed. The care lab is the ideal place to observe and track care activities, because necessary devices, like an automatic bed are already installed. Plenty of care scenarios can be tested here. Furthermore, technical innovations can be tested here under observation to make sure people are confident with the new systems in real care situations. Nurses can give feedback instantly what is used by the engineers to improve their systems immediately.
The second partial goal is the integration of the movements into a system that can evaluate their poses and movements. Based on recommendations of trained instructors, the nurses can be taught individually. Further cooperation with sports medics and others are planned to get the most out of the analysis system.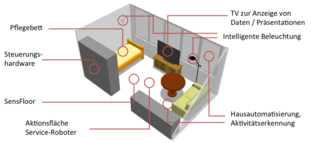 The integration into the real care is the last goal. It is planned to make the analysis system mobile. In the future, it might be possible to travel to different nursing and care institutions to teach the team there.